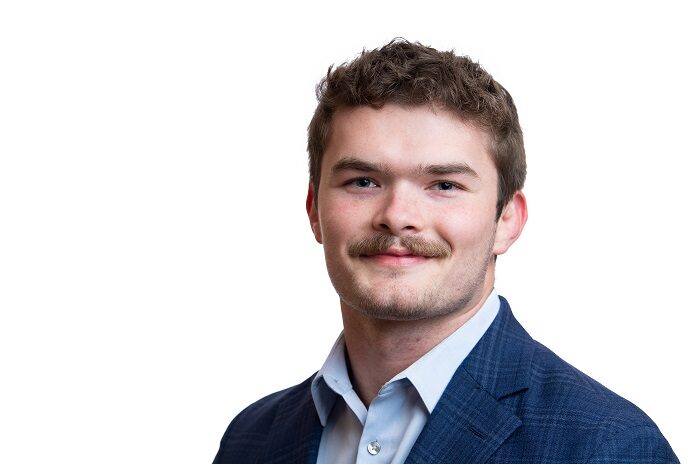 University of Louisville junior [and 2021-22 Sustainability Assessment (STARS) Intern], Klemmer Nicodemus has won Kentucky's only Harry S. Truman Scholarship for 2023.
The award, valued at $30,000, is given to just 62 U.S. college juniors annually and is the premier graduate scholarship for aspiring public service leaders in the United States. Winners were announced April 12.
Nicodemus, originally from the small rural western Kentucky city of Hartford, is a chemical engineering major in the J.B. Speed School of Engineering who is minoring in chemistry. His undergraduate research at UofL and with the Department of Energy's (DOE) Pacific Northwest National Laboratory is aimed at mitigating the effects of climate change. 
Hoping to bridge the gap between technological advancements and social policy, upon graduation he plans to pursue doctoral studies in chemical engineering and continue his career as a researcher with the DOE. He hopes to transition into policy work as a subject matter expert in his field with an eye toward enabling scientific discoveries to directly serve public needs.
Nicodemus was also one of two UofL students to be awarded a 2023 Barry Goldwater Scholarship, which recognizes U.S. sophomores and juniors pursuing research careers in math, science and engineering.
"I am thrilled with the opportunity to represent the University of Louisville and my home state of Kentucky in both of these prestigious organizations," he said. "It is one thing to be recognized for my accomplishments and potential as a scientist and as a public servant, respectively, but to be able to combine these two passions of mine in such elite venues as the Truman and Goldwater foundations is a dream come true; just the next step in a lifelong journey of service as a scientist."
Among his many projects at Speed, he worked on the Team Desert Phoenix solar house in 2021 and was part of the 2020 OxyCART oxygen concentrator project to improve a device commonly used to treat COVID-19 and other patients with respiratory problems.
There were more than 700 applicants for this year's Truman Scholarship from 275 colleges and universities. This year's awardees join a community of 3,504 Truman Scholars named since the first awards in 1977. Including Nicodemus, 15 UofL students have been Truman awardees; the last UofL student to win the scholarship was in 2021. 
Source: UofL engineering student wins state's only Truman Scholarship (UofL News, April 14, 2023)