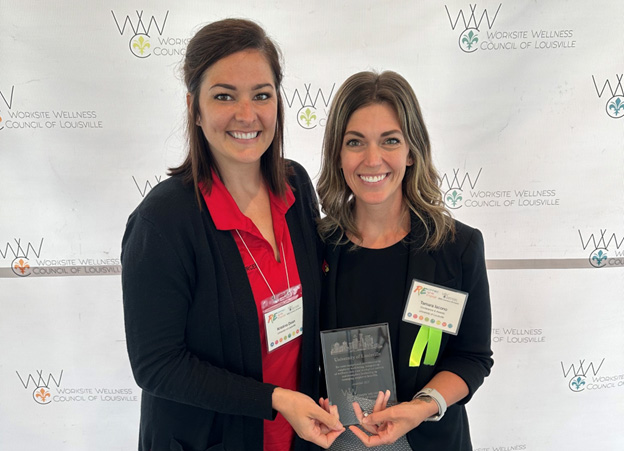 The University of Louisville's Get Healthy Now program was awarded the Silver Worksite Wellness Award at the Worksite Wellness Council of Louisville's annual conference, which took place May 24. The award is based on the Centers for Disease Control and Prevention Worksite Health Scorecard and awards organizations who have shown competency in the following areas:
Top Management Support: Established Mission/Vision Statement along with a defined plan for ongoing development and purpose for support.
Programs: Wellness opportunities available to employees at the worksite or through outside organizations.
Policies: Formal or informal written statements that are designed to protect or promote employee health.
Benefits: Part of an overall compensation package including health insurance coverage and other services or discounts regarding health.
The Worksite Wellness Council of Louisville is a local council whose mission is to promote wellness by facilitating a culture of health through the development of sustainable worksite wellness programs, promotion of healthy lifestyles and providing support access to essential resources. Each year, the council hosts a Worksite Wellness Conference to award employers who prioritize wellness and promote a healthy work environment for its employees.
"As part of the university's comprehensive benefits package, Get Healthy Now's mission is to cultivate a culture of wellness through generous program offerings and wellness education," said Tamara Iacono, wellness coordinator for UofL's Get Healthy Now program. "The WWCL award reinforces Get Healthy Now's mission and confirms the university's commitment to employee well-being."
Learn more about the Worksite Wellness Council and go to the Get Healthy Now webpage to learn about the University of Louisville's wellness programs and resources.