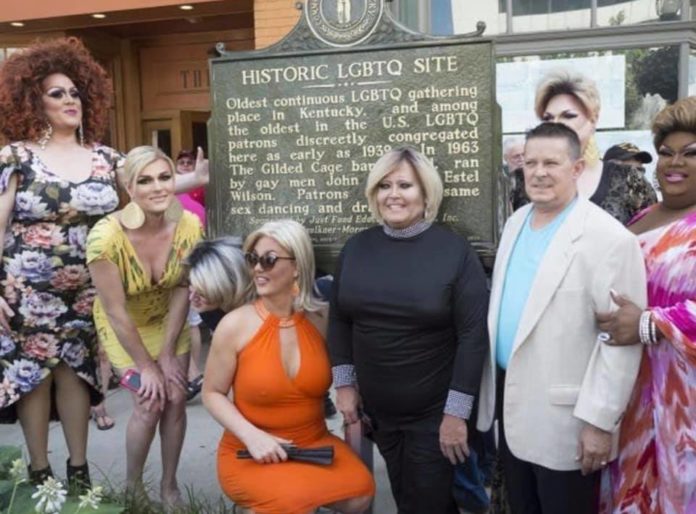 The University of Louisville's Anne Braden Institute for Social Justice has taken huge steps in bringing Kentucky's relatively unexplored LGBTQ history to the forefront. As a result of this effort, UofL has been nominated for the 2019 W. Kellogg Awards and, if selected, will also be put in the running for the prestigious C. Peter Magrath Award.
The Braden Institute's work to preserve Kentucky's LGBTQ history was done in association with the Fairness Campaign from 2015-2017. The project's goal was "to produce the nation's first statewide LGBTQ historic context report and two LBTGQ historic site designations, working with Kentucky's State Historic Preservation Office (SHPO)."
"Widespread social hostility, including violence, has meant that the cultural contributions of LGBTQ people have long been undervalued or suppressed, resulting in invisibility of this aspect of Kentucky's heritage," reads the Braden Institute's nomination letter. "Recovering those histories is a vital part of acknowledging the dignity of LGBTQ communities in order to create wider validity and acceptance."
After vigorous research, including five statewide history gatherings, the Braden Institute's report was published by the National Park Service as a part of its initiative to document minority communities. According to the nomination, "outcomes included new visibility, advocacy tools, and media coverage for partners; new research skills and publications for students; curricular transformation; two of the nation's first-ever National Register historic sites with LGBTQ significance; and online public history report."
The Institute aims to continue its research with a focus on LGBTQ Kentuckians of color, as well as working with Kentucky school districts to include more LGBTQ-inclusive curriculum.
Henry Cunningham, UofL's director of Community Engagement, said the university has submitted nominations for the W. Kellogg Awards and the C. Peter Magrath Award before, but has never gotten this far. 
"The W. Kellogg Awards and the C. Peter Magrath Award were developed to provide national recognition for the outstanding community-university engagement work of public universities," Cunningham said. "The purpose is to recognize the contribution universities are making to the community through joint collaboration with community partners using engaged scholarship, like teaching and research. Colleges and universities are recognized for redesigning their teaching/learning and research mission to increase the involvement of community partners."
Applicants must demonstrate how scholarship bettered their communities, be it by teaching, research, or service. "The [application] exemplifies the role of the Office of Community Engagement working with faculty across the university to connect teaching and research to community issues in a mutually beneficial way," said Cunningham.       
As a recipient of the Kellogg Awards, UofL will receive $2,500 to produce a two-minute video showcasing the university's journey with its partnerships, which will be shown at the ESC Annual Conference and will also be reviewed as a part of the review process for the Magrath Awards. If selected for the Magrath Awards, UofL will receive a sculpture and a $20,000 prize.