President Bendapudi announces plan for UofL to become 'premier anti-racist metropolitan research university'
By Alicia Kelso -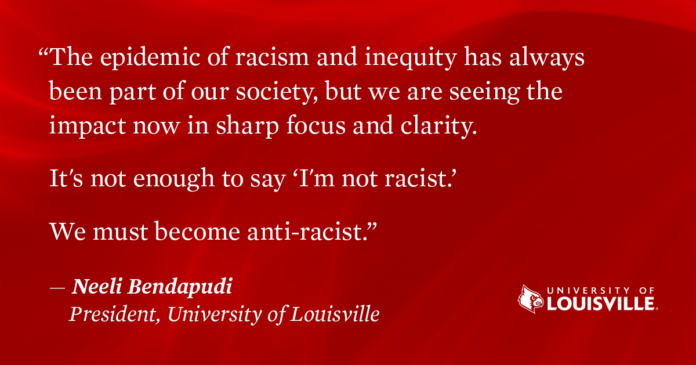 University of Louisville President Neeli Bendapudi today announced a goal to become the "premier anti-racist metropolitan research university in the country."
To guide us toward this goal, UofL has launched the Cardinal Anti-Racism Agenda. The agenda entails a phased process, soliciting input from the university community, creating a committee to organize and identify priorities from that input, and seeking approval from the Board of Trustees to get this important, intentional work started.
This goal is an iteration of UofL's mission of being the "premier, nationally-recognized metropolitan research university," established in 1997 with the passage of HB1 – the Postsecondary Educational Improvement Act. As part of that initial mission, UofL was obligated to serve the needs of a diverse population, including many ethnic minorities and place-bound, part-time, nontraditional students.
Indeed, in the 23 years since the passage of that legislation, UofL has transformed itself from an urban commuter college to a world-class research university. We serve a more racially and socio-economically diverse student population than most research universities in the country, and we have a unique and pervasive relationship with the City of Louisville. We are proud of our progress and of our standing.
However, times have changed, and it is appropriate as a higher education institution to change with them in an effort to achieve the highest ideals of society. It is incumbent upon us to explore and to grow for the purpose of being a model for the communities we serve. That is why we have created this Cardinal Anti-Racism Agenda.
Actions will define who we really are and what we truly believe as a community and there is no better time than now – at this inflection point in our country – to stand on the right side of history.
As Martin Luther King Jr. said, "the arc of the moral universe is long, but it bends toward justice … Each of us who works for social change is part of the mosaic of all who work for justice; together we can accomplish multitudes."
There is no doubt this work will take time and it will take all of us. Our first step is to harness our collective wisdom to lay the groundwork. We have already established a few key commitments, including the recruitment and retention of more Black employees and students, building intentionally anti-racism curriculum across all disciplines, ensuring diverse representation on boards and committees, developing budgets that reflect the priority of diversity and equity and more. 
In the coming weeks and months, the Commission on Diversity and Racial Equality (CODRE), in partnership with the Office of Diversity and Inclusion, will lead the charge to engage our community for more potential items to add to our agenda. We will regularly remind our community to submit their ideas to craft an appropriately robust agenda, which will be put in front of the Board of Trustees at the Sept. 24 meeting.
Upon approval from the board, we will put the ball in motion to become a national model of anti-racism, proving that race will not negatively impact anyone's experience at the University of Louisville.
We've made bold steps before. In 1951, for example, UofL integrated our student body several years before most of our Kentucky peers were willing to do the same. Our Department of Pan-African studies is one of the oldest of its kind in the country. We are one of just three out of the country's 101 most selective public universities that provide equal access for Black and Latinx students.
Those bold steps will be the foundation of our new objective. We will continue to lead the way here. We will become the country's premier anti-racist university. Watch this space for updates. 
Check out President Bendapudi's introduction of our Anti-Racism agenda:
Source: President Bendapudi announces plan for UofL to become 'premier anti-racist metropolitan research university' (UofL News, July 28, 2020)