15th Annual Anne Braden Memorial Lecture with Elizabeth Hinton
When
Nov 10, 2021
from

06:30 PM

to

08:00 PM

Where

SAC Ballroom and livestreamed

Add event to calendar

vCal




iCal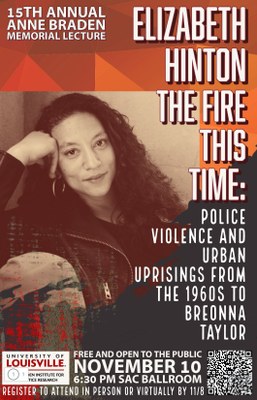 The Anne Braden Institute for Social Justice Research is thrilled to announce that Elizabeth K. Hinton will present the 15th Annual Anne Braden Memorial Lecture: "The Fire This Time: Police Violence and Urban Uprisings from the 1960s to Breonna Taylor."
Dr. Hinton, Associate Professor of History and of African American Studies and Professor of Law at Yale, is one of the nation's leading experts on criminalization and policing, Dr.. Hinton's research focuses on the persistence of poverty, racial inequality, and urban violence in the 20th century United States.

In her new book, America on Fire: The Untold History of Police Violence and Black Rebellion Since the 1960s (Liveright, 2021), Hinton offers a sweeping historical account. From May 1968 to December 1972, by her count, some 960 Black communities across the country saw 1,949 separate disturbances, resulting in nearly 40,000 arrests, with more than 10,000 people injured and at least 220 killed. These incidents, which were often violent, were labeled "riots," a label which has stuck, including in the scholarship. But Hinton argues that they must be understood as "rebellions" — part of a "sustained insurgency" against entrenched inequality and the harsh policing of the escalating war on crime.

As Hinton demonstrates in America on Fire, the massive nationwide movement of 2020 protests in response to the killing of George Floyd by Minneapolis police had clear precursors—and any attempt to understand our current crisis requires a reckoning with the recent past. Presenting a new framework for understanding our nation's enduring strife, America on Fire is also a warning: rebellions will surely continue unless police are no longer called on to manage the consequences of dismal conditions beyond their control, and until an oppressive system is finally remade on the principles of justice and equality.
Hinton's articles and op-eds can be found in the pages of the Journal of American History, the Journal of Urban History, The New York Times, The Atlantic, The Boston Review, The Nation, and Time. She also co-edited The New Black History: Revisiting the Second Reconstruction (Palgrave Macmillan) with the late historian Manning Marable. In her award-winning first book, From the War on Poverty to the War on Crime: The Making of Mass Incarceration in America (Harvard University Press, 2016), Hinton examines the implementation of federal law enforcement programs beginning in the mid-1960s that laid the groundwork for the mass incarceration of American citizens.
Dr. Hinton's lecture is free and open to the public and will be livestreamed from the SAC Ballroom.

• Please register to attend in person or virtually by November 8th;
• All attendees are requested to be masked and fully vaccinated.