We Can't Wait: Student Empowerment Through Activism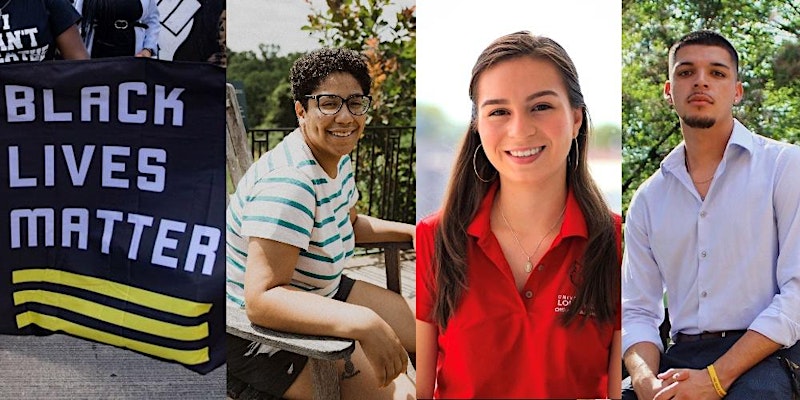 Pre-registration required here.
 
Don't miss this important panel discussion by three of UofL's Martin Luther King Scholars and social justice activists. They will talk about their experiences, their education, what's getting them up in the morning, what's keeping them up at night, and what they expect to change as a result of their work.  
Student Panelists, Martin Luther King Scholars:
Arii Lynton-Smith(they/them) - Majoring in Cultural Nonprofit Management (Liberal Studies)
Nicole Sparling (she/her) - Majoring in Biology and Spanish; Minoring in Social Change and Political Peacekeeping Certificate
David Echeverria (he/his) - Majoring in Political Science; Minoring in Social Change
Moderator: Cherie Dawson-Edwards, PhD - Department Chair, and Associate Professor of Criminal Justice
Institutions of higher learning are known as crucibles for social conflict and change. Although they are often at the forefront of progressive thought and action, they are also protectors of privilege and the status quo. The University of Louisville is no exception. Although educators often play a role in the fight for social change, historically, it's the students who have created lasting change by forcing the hands of those in power.  
This year in Louisville has been like no other in recent history. The nation's and the world's eyes are on Louisville, Kentucky, as thousands of people unite in peaceful protests against ongoing racial injustice and state-sanctioned violence. The recent brutal killing of Breonna Taylor and other unarmed Black people by police has led to rallying cries across the globe of "Say Her Name" and "No Justice, No Peace." These demands for change are being led by young people like Nicole, Arii, and David.