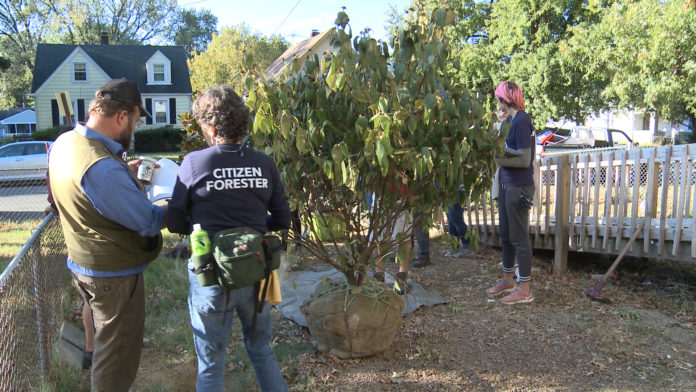 A first-of-its-kind study of the effects of plants on human health, the Green Heart Project, is beginning large-scale planting of trees and shrubs in South Louisville neighborhoods.
The Nature Conservancy is overseeing the planting of approximately 8,000 trees and shrubs in the designated neighborhoods. Researchers with the University of Louisville's Christina Lee Brown Envirome Institute will compare data about the health of people living in the neighborhoods and air pollution levels collected before the plantings with data collected two years after the vegetation is planted. The results will provide insight into how the additional vegetation affects the health of people in the community.
"Our primary objective is to understand how increasing greenness affects the risk of heart disease within the community," said Aruni Bhatnagar, PhD, director of the Christina Lee Brown Envirome Institute at the University of Louisville, who oversees the project. "Heart disease remains the leading cause of death throughout the world. We can treat heart disease with stents and statins, but we cannot prevent the disease. If we can show that putting in more trees will lower the incidence of the disease, even by a fraction of what it is, that would be a major achievement."

The Nature Conservancy is planting the trees and shrubs in designated residents' yards at no charge to property owners.
"We're excited to enter the next phase of the Green Heart project," said David Phemister, state director for The Nature Conservancy in Kentucky. "Tree plantings at this scale require strong partnerships and deep engagement with the community. Green Heart is not just a science experiment – it is a deep investment to bring more nature to neighborhoods in the heart of Louisville."
The residents' health is being assessed by UofL researchers through the Health, Environment and Action in Louisville (HEAL) Study. The HEAL researchers obtained health information from approximately 700 participating residents of the Taylor-Berry, Jacobs, Hazelwood, Oakdale, Wilder Park and Beechmont neighborhoods before the planting began. They collected information such as blood pressure, cholesterol, heart health and other health indicators. The same participants will be evaluated again in two years to determine if these health indicators have changed.
"We wanted Louisville to become maybe one of the first cities in the country that makes its decisions through the lens of all forms of health," said Christina Lee Brown, benefactor of the Envirome Institute. "That is the Envirome's objective. This project is a magnificent example of healing our community from the roots up."
In addition to the Envirome Institute and The Nature Conservancy, the project is funded by the National Institutes of Health and is supported by partnerships with Metro Louisville, Louisville Grows, Washington University in St. Louis, Hyphae Design Laboratory and the United States Forest Service. The total cost of the five-year project is more than $15 million.