Sustainability Roundtable: Socio-Ecology of Managed Honeybees
When
Aug 31, 2018
from

11:00 AM

to

12:00 PM

Where

Urban Studies Room 200 (426 W Bloom St)

Add event to calendar

vCal




iCal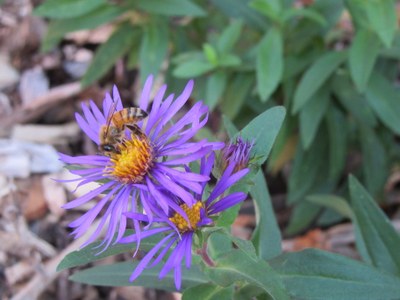 Please join us for UofL's Sustainability Roundtable series on alternating Fridays at 11am!
We kick off our fall series with Haileigh Arnold (M.S. Interdisciplinary Sustainability Studies, University of Louisville), speaking about her thesis on The Socio-Ecology of Managed Honeybees (Apis mellifera) in the Louisville Metro Area.
Humans have a long history of the practice of beekeeping to harness the power of pollination. This managed pollinator system consists of beekeepers, honeybees, and their environment. However, recent disease, pesticide use, and land use factors honeybee threaten this relationship. In the face of such concerns it is important to examine the factors that impact and can help sustain our managed pollinator systems.
In this thesis, the national and Kentucky state-level policies that affect managed pollinator systems were examined and socio-ecological factors that may contribute to honeybee hive growth and losses were assessed along an urban development gradient in Louisville, KY metropolitan area. 
Land use did not significantly explain any variation while beekeeper experience were trends and motivation was significant for hive gain. These results suggest that the success of this managed pollinator system in the Louisville area depend on policies and well informed decision-making by beekeepers.
The format is a 30-40 minute presentation from a variety of speakers, followed by 20-30 minute open discussion. Please feel free to bring your lunch! Anyone with an interest in sustainability can give talks at the speaker series and participate in the audience, including faculty, staff, students, practitioners, teachers, government officials, and members of the public.
If you would like to give a presentation, or would like to hear a particular speaker, please contact Daniel DeCaro.