Sustainability Roundtable: Chris Harrell, ConnectOurCore
When
Sep 28, 2018
from

11:00 AM

to

12:00 PM

Where

Urban Studies Room 200 (426 W Bloom St)

Add event to calendar

vCal




iCal
Please join us for UofL's Sustainability Roundtable series on alternating Fridays at 11am!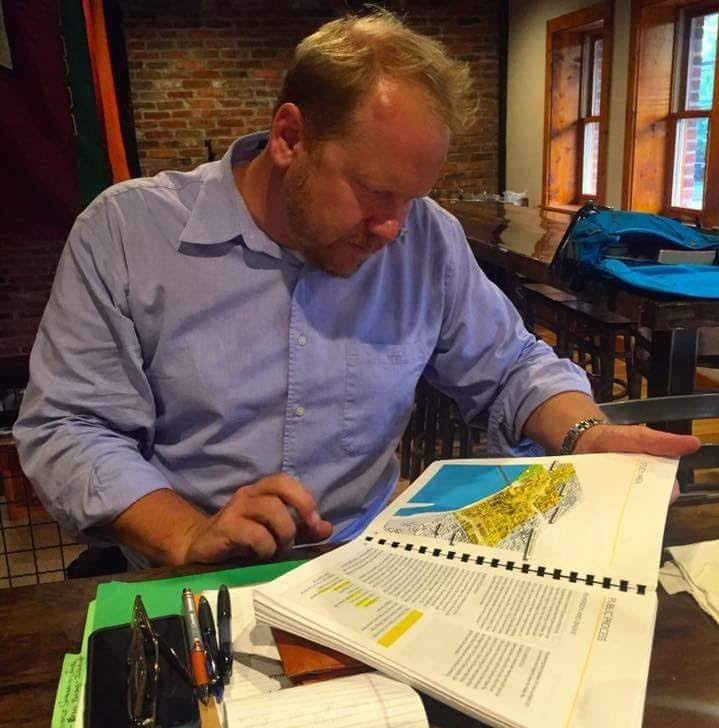 Our special guest speaker on September 28th will be Chris Harrell, founder of ConnectOurCore, which seeks to better connect our urban core neighborhoods on foot, on bike, and online in Louisville and southern Indiana.
The vision is inspired by the quality of life gains, and private investment spawned by  the Indianapolis Cultural Trail. Louisville & Southern Indiana can leverage similar efforts, reinforced by the need for a physical manifestation of an Urban Bourbon Trail that is uniquely Louisville. Chris advocates for a more connected urban core for Louisville (Kentucky), Jeffersonville, Clarksville and New Albany (Indiana).
Connectivity is served by well considered investment in pedestrian, bike, and broadband internet infrastructure.  Chris seeks to build champions from a broad base of neighborhood residents, political leaders, public servants, businesses, and local business patrons. ConnectOurCore intends to link our champions in a common cause - to drive public investment in low impact design sustainable infrastructure that connects our communities. The mission is to connect Louisville, Jeffersonville, Clarksville, and New Albany neighborhoods to the Louisville Loop, the Ohio River Greenway by & through adjacent neighborhoods to incubate greater flow of pedestrian, bicycle, and digital traffic within our shared community.
Chris Harrell is a Board member of Bicycling For Louisville and serves as one of the Team Leaders on the US EPA Brownfields Community Benefits Assessment Project with UofL's Center for Environmental Policy and Management (CEPM). Harrell is also the Founder and Principal of Lazarus Group LLC, a firm engaged in crafting redevelopment strategies for distressed properties, corridors, and communities. In 2013 Harrell joined three other concerned citizens to found the Civic Data Alliance, an advocacy and action group of volunteers devoted to freeing public data, and using open data for the public good. From April 2004 until August, 2011 Harrell managed distressed property redevelopment efforts as Brownfield Redevelopment Coordinator for the City of Indianapolis' Department of Metropolitan Development. Harrell's educational background includes graduate degrees in both law and public policy. Harrell received his JD and MPA from Indiana University – Bloomington.
The format is a 30-40 minute presentation from a variety of speakers, followed by 20-30 minute open discussion. Please feel free to bring your lunch! Anyone with an interest in sustainability can give talks at the speaker series and participate in the audience, including faculty, staff, students, practitioners, teachers, government officials, and members of the public. If you would like to give a presentation, or would like to hear a particular speaker, please contact Daniel DeCaro.
The remaining Roundtable schedule is as follows:
Oct. 12 - Professor Tony Arnold (Brandeis School of Law), Resilience Justice
Oct. 26 - Dr. Tamara Sluss (Director, UofL's Interdisciplinary Masters Program in Sustainability), Title TBA
Nov. 9 - Fulbright Scholar Tiago de Melo Cartaxo (Nova University, Lisbon, Portugal), Title TBA