Louisville Solar Tour 2019
When
Oct 05, 2019
from

10:00 AM

to

04:00 PM

Where

various sites, starting at room 103 Ernst Hall (216 Eastern Pkwy)

Contact Name
Elliott Kathleen Grantz
Add event to calendar

vCal




iCal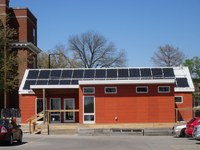 This year' s Louisville Solar Tour will kick-off with informative sessions at UofL, after which UofL employees and students who live in solar-powered homes will be opening their doors to give you a glimpse of our renewable energy future!
This annual event provides real-life examples of how families and businesses are harnessing free energy from the sun in the River City to generate electricity, heat water & indoor spaces, and slash monthly utility bills!
Throughout the day you can tour a wide variety of solar-powered homes and institutions, including UofL's!
We will start with opening presentations by Adam Edelen and other solar experts for context, and then climb in a bus to see various solar installations on site.
Owners will explain unique and outstanding features of their solar systems on location.
The bus will return to an ending party at Apocalypse Brewing. Schedule:
Pre-tour: 10am, Ernst Hall 103, kickoff and educational presentation (with Adam Edelen)

Tour: 11:00am – 3:00pm

Post-tour: 3:00pm, meet the installers and celebrate, Apocalypse Brew Works (1612 Mellwood Ave.)
Each tour site will offer information and perspectives from homeowners, businesses, and solar installers about the costs, processes, and economic and environmental benefits of going solar.