Peace & Justice
A sustainable society requires us to actively pursue peace and justice for all.
UofL is building a culture of peace and justice through a variety of means designed to create more resilient communities. Our students, staff, and faculty are engaged citizens who work inside and outside the classroom to help make our community safer, saner, and better for everyone. We pursue these goals through our commitments to education, research, and civic engagement. Listed below are some of UofL's academic and other programs that share these goals.
The University of Louisville is located on the traditional lands of the Cherokee, Shawnee, Osage and Haudenosaunee who suffered genocide and forced displacement from these lands. We give thanks for the longstanding relationship that Indigenous Nations have to this land and seek to learn from it in order to heal our own broken relationship with the land. We acknowledge that the University of Louisville was founded in segregation and structural racism. We lament the historical and ongoing injustices that Indigenous, Black and Brown Peoples endure in this country and around the world. May our words and deeds reflect this reality and contribute to fostering more respectful relationships with Indigenous, Black and Brown Peoples.
Founded in 1993, the African American Theatre Program is integral to the Theatre Arts Department. It develops theatre artists trained in the traditions of African American theatre and contributes to the multi-cultural arts movement. The AATP includes two Mainstage productions a season, community service, touring, and eight courses for graduate and undergraduate students. Subjects include theatre history, literature, performance, and theatre practicum. Undergraduates can earn a minor in African American Theatre or Cultural Performance. Graduate students can earn a certificate through the program.
The Anne Braden Institute for Social Justice Research is based in the College of Arts & Sciences. Its mission is to bridge the gap between academic research and social justice community advocates who might apply that research. The Institute seeks to advance understanding of the legacy of the southern civil rights movement and to honor the vision of longtime Louisville racial justice organizer and journalist Anne Braden, whose outlook was global but whose activism was concentrated at the grassroots level. The Institute sponsors, stimulates, and disseminates interdisciplinary research relevant to the Louisville community and the U.S. South on social movements, citizen participation, public policy reforms, and social, racial, gender and economic justice.
The mission of CSCJBC is to promote research and teaching to the community of faculty, staff, and students at the University of Louisville as well as community members and officials who construct and pass public policy on issues related to crime among black populations. Through singular and collaborative efforts, CSCJBC exists to cultivate new perspectives and public policy initiatives which seek correctives to the issues chosen for exploration. The goals of CSCJBC reflect those promoted by the University of Louisville and the College of Arts and Sciences of enhancing research and scholarly activities with the aim of achieving national prominence, promoting intercultural understanding, and cultivating real-world change in ever-evolving communities.
Freedom Park
UofL's Freedom Park is dedicated to advancing understanding of Louisville's history of race relations and the movement for equality locally and at UofL. The Park commemorates the history of African Americans in Louisville and the commonwealth in the context of the universal struggle for freedom. More specifically, it explores Louisville's history in the movement for civil rights for all its citizens. The site of the park, on a triangle of land bordered by 2nd Street, 3rd Street, and Cardinal Boulevard, had long generated controversy by the presence at its south end of a city-owned monument constructed in 1895 to honor the Confederate soldiers who died during the Civil War.Since the University began admitting African American students in 1951, there have been periodic protests of the monument. The idea of Freedom Park came about as a means to provide a more complete historical account. The sculptures in the park enable visitors to follow Louisville's progression from a city of slaveholders and Black settlements in the 1750s to its current status as a diverse metropolitan area still struggling to enact equal rights for all its residents. Freedom Park tells the story of African Americans in through a series of 10 information obelisks, each focusing on an era or topic specific to Louisville, and 10 glass panels detailing the contributions of some of the giants of Louisville's civil rights struggle. Full details about Freedom Park here.
Among the five distinct awards, the Grawemeyer Award for Ideas Improving World Order is presented annually to stimulate the recognition, dissemination and critical analysis of outstanding proposals for improving world order. Submissions are judged according to originality, feasibility and potential impact, not by the cumulative record of the nominee. They may address a wide range of global concerns including foreign policy and its formation; the conduct of international relations or world politics; global economic issues, such as world trade and investment; resolution of regional, ethnic or racial conflicts; the proliferation of destructive technologies; global cooperation on environmental protection or other important issues; international law and organization; any combination or particular environmental protection or other important issues; international law and organization; any combination or particular aspects of these, or any other suitable idea which could at least incrementally lead to a more just and peaceful world order.
HSC Health and Social Justice Scholars
In 2016, UofL launched a new program at our Health Sciences Center (HSC) for Health and Social Justice Scholars. The Program provides a unique opportunity around educating professional and doctoral students in an interprofessional manner to produce high quality scholarly activities related to health equity, health and healthcare disparities, social justice, and healthcare innovation with the goal of benefiting underserved and disadvantaged populations. The program is comprehensive, providing scholars conceptual learning modules, research experience, mentoring, service learning, and professional development. The program is managed by the Health Sciences Center (HSC) Office of Diversity and Inclusion with high collaboration with Schools of Dentistry, Medicine, Nursing, and Public Health and Information Sciences, as well as community partners.
Each scholar (one from each of the four schools at HSC) receives a $10,000 scholarship/stipend for the academic year in addition to mentoring support, research opportunities, and professional development travel support. Scholars may participate in the program for a maximum of three years. Scholars participate in clinical work (when appropriate), didactics, community-based experiences and scholarly activities. Scholars are trained in the techniques of community-based participatory research and evaluation, and are actively involved in the interactive process of translating research findings into policy development and implementation. Each scholar has two mentors; one to help them negotiate the rigors of the program and the other from their chosen field to provide guidance in their careers.
The undergraduate (Bachelor of Science) degree program in Justice Administration actively engages students in the learning process, provides students with a balance of theoretical knowledge and applied skills and promotes civic involvement and civic leadership in the practice of justice administration. This is accomplished through the use of varied instructional techniques and educational strategies, within and outside the classroom. The program offers students an active internship program with placements in a wide-range of local, state and federal criminal justice agencies. Additionally, students are provided with up-to-date information on available jobs within and outside the Greater Louisville Metropolitan Area as well as access to more than 50 hiring agencies during the annual career fair.
The College of Arts and Sciences offers an interdisciplinary Bachelors of Arts Degree in Liberal Studies which transcends the boundaries of inquiry permitted by single-discipline departments. UofL's Liberal Studies program is part of a national trend, giving eligible students the opportunity to create individualized, interdisciplinary programs that reflect each student's career goals and/or intellectual interests. Among many options available, students may create their own interdisciplinary program in Peace Studies, which consists of a minor in any department within the college of Arts and Sciences plus two concentrations of four-courses each approved by the Director of Liberal Studies.
Martin Luther King Scholars
The Martin Luther King, Jr. (MLK) Scholars Program for Peace and Social Justice is awarded to ten Woodford R. Porter Scholarship recipients, this is a two-year leadership development program that supplements the students' freshman and sophomore years at the University of Louisville through classroom and co-curricular activities. The program allows students to engage and explore issues of peace and social justice in exciting, unique, and interactive ways. Key components of the program include the opportunity to live together in an honors residence hall, enroll in a peace and social justice course, and participate in a domestic-travel service learning experience.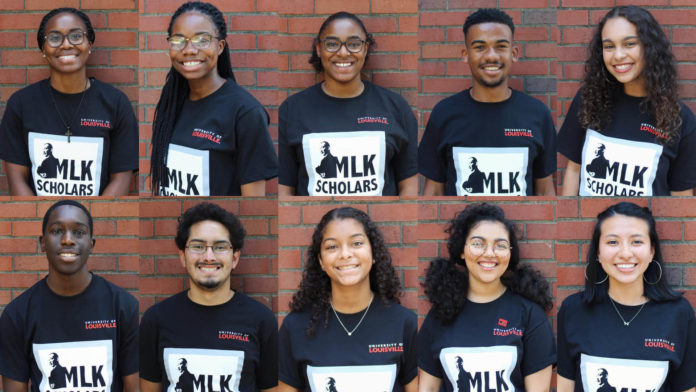 Get to know our newest MLK Scholars (UofL News, Jan. 17, 2020)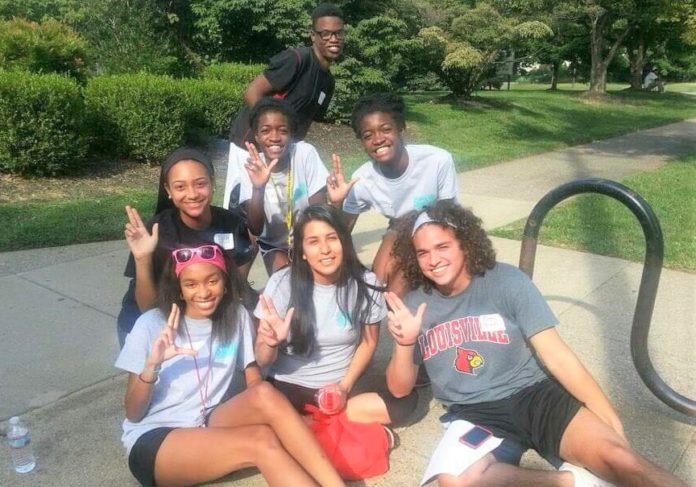 UofL's MLK Scholars keep the dream alive (UofL News, Jan. 14, 2019)
Muhammad Ali Institute for Peace and Justice
The mission of the Muhammad Ali Institute for Peace and Justice advances the work, study and practice of peacemaking, social justice, and violence prevention through education, training, service, and research. Drawing strength from the vision and work of Muhammad Ali, the Muhammad Ali Institute for Peace and Justice at the University of Louisville develops initiatives that support human dignity, foster responsible citizenship, further peace and justice and address the impact of violence in local, state, national and international arenas. The Ali Institute has a special concern for young people living with violence in urban areas; therefore, we seek to equip the young and those working with them to be agents of peace and justice in their communities. Because the Ali Institute recognizes that peace cannot exist in the absence of justice, we strive, through our work and energy, to be essential contributors to the cause of justice locally and around the world.
Office for Lesbian, Gay, Bisexual & Transgender Services
The Office for Lesbian, Gay, Bisexual, and Transgender (LGBT) Services works to strengthen and sustain an inclusive campus community at the University of Louisville, one that welcomes people of all sexual orientations, gender identities, and gender expressions through support, educational resources, and advocacy. The office works in partnership with other diversity efforts on campus supporting the Vice Provost for Diversity and International Affairs.
UofL expands use of preferred name option to employees (UofL News, Jan. 25, 2017)
UofL ranked friendliest public institution in South for LGBT community (UofL Today, Aug. 13, 2015) 
In 2017, as part of the University of Louisville's ongoing commitment to an inclusive and diverse environment, Human Resources and the LGBT Center expanded the use of a preferred name to employees. Similar to the option available to students since 2015, this new option allows employees to choose a preferred name that will appear in the staff directory, Blackboard, and on their campus ID card. A separate process for choosing a preferred email address (PEA) is also available to employees. Assistant Provost for Diversity and LGBT Center Director Brian Buford noted that a preferred name option promotes a climate of inclusion. "Transgender employees can be accidentally outed when the name in the system doesn't reflect their identity. And international employees find it easier sometimes to use a name that is easier for American peers to spell and pronounce," he said. "In both cases, it's about removing obstacles and sending a message of inclusion."
The Ombuds is an independent, informal, neutral and confidential resource who provides assistance to members of the University community in exploring options to resolve problems, complaints and conflicts.
The department of Pan-African Studies (PAS) fosters the multidisciplinary study of the societies and cultures of Africa and persons of African ancestry past and present, throughout the world. To this end, PAS offers an extensive program of study, including undergraduate major and minor and graduate programs focusing on Africa and the Diaspora. This program of study seeks to:
Give students a broad understanding of the history, societies and cultures of the African world;
Equip students to apply Pan-Africanist scholarship to the analysis of and engagement with contemporary social and cultural issues;
Prepare students for the workforce or for graduate work in Pan-African Studies and/or related fields;
Add an inter-cultural dimension to other academic programs.
PEACC Program (Prevention, Education an Advocacy on Campus and in the Community)
Since its founding in 1999, the University of Louisville's Prevention, Education and Advocacy on Campus and in the Community (PEACC) program has worked to create a campus culture that does not tolerate violence against women. The mission of PEACC heavily incorporates UofL's commitment to Ideas 2 Action, the program to develop students' critical thinking skills. The statement calls for the group to empower students to develop the skills needed to build resiliency within their interpersonal relationships and social interactions, and to mobilize students to create their own safe and healthy campus community. PEACC educates on the impact of power-based personal violence; challenges the norms that contribute to violence and hinder social justice; utilizes the arts as activism to engage and inspire; and builds student connection through peer education and Men of PEACC.
Peace, Justice & Conflict Transformation
One of the university's newest academic programs, the Peace, Justice & Conflict Transformation program reflects the intimate relationship between peace and justice and also that pragmatic skills can be learned to transform conflict. Peace is intrapersonal, interpersonal, and a global goal among neighbors, social and ethnic groups, and nations. Previously, undergraduates could concentrate on Peace Studies within the Liberal Arts program, but in 2011, UofL launched an undergraduate certificate in Peace, Justice & Conflict Transformation to accompany any major at UofL. Approval has been granted to expand this to a graduate certificate, as well.Contact: Director Russell Vandenbroucke, 502-852-8444, r.vandenbroucke (at) louisville.edu.
AUDIO: UofL Peace Studies and Peace Day 2015 (starts: 12:50) (UofL Today with Mark Hebert, 93.9 FM The Ville, Sept. 8, 2015)
How do people, across times and places, work to change their social environment? How do they respond when their social environments change around them? Where do you fit in? With an interdisciplinary minor in social change students can explore these questions in close collaboration with peers and faculty members. Core and elective courses help students to pursue their particular interests—for example, the environment, civil rights, politics, deindustrialization, labor, or war & peace—from a variety of disciplinary perspectives. In the capstone courses, students join with their peers and reach out into the community both to reflect upon and to apply the knowledge they gain in their academic and other social change-related work. The Social Change minorcomplements any major program. It provides valuable experience and background for careers in social movements or for a lifetime of engaged citizenship.
White Allies for Racial Justice
A group of faculty, staff, and students who want to engage in the contemporary struggle for racial justice. This involves serving as allies to faculty, staff, and students of color, cultivating community, and engaging in personal self-development work. The group's goals include:
(1) To advocate for racial justice by serving as allies with faculty, staff, and students at UofL.
(2) Cultivating communities of racial justice advocates, including communities of white anti-racists, multiracial coalitions, and communities connecting University folk with surrounding Metro Louisville racial justice advocates.
(3) Engaging in the self-development as white people that is necessary to unmask the complex ways we have internalized and continue to reproduce whiteness and white privilege.
Worker Rights
From 2010 until June 2016, UofL was a member of the Worker Rights Consortiumand a supporter of its Designated Suppliers Program. The WRC is an independent labor rights monitoring organization, conducting investigations of working conditions in factories around the globe, including those where licensed UofL apparel is manufactured. The purpose is to combat sweatshops and protect the rights of workers who make apparel and other products. The WRC conducts independent, in-depth investigations; issues public reports on factories producing for major brands; and aids workers at these factories in their efforts to end labor abuses and defend their workplace rights. UofL was also an affiliate of the Fair Labor Association, a nonprofit organization dedicated to ending sweatshop conditions in factories worldwide.
In 2014-15, Cards United Against Sweatshops rejuvenated student interest in diving into WRC reports for UofL apparel suppliers and seeking to increase the sourcing of sweat-free clothing for UofL. Students called on UofL to increase the percentage of sweat-free clothing available in the UofL Bookstore and on March 27, 2015 they succeeded in getting the university to issue a letter to all UofL apparel licensees requiring that they sign onto the Accord on Fire and Building Safety in Bangladesh.
On March 3, 2015, as a part of Spring Sustainability Week, CUAS brought to campus Bangladeshi labor organizer Kalpona Akter and Mahinoor Begum, a garment worker and survivor of the deadly Rana Plaza collapse in April 2013. The workers spoke about their struggle to force brands like VF Corporation, the parent company of JanSport, to sign a legally binding agreement to improve apparel factory safety and working conditions in Bangladesh, as well as what students can do to make UofL sweat-free! The students and Bangladeshi workers took their demands directly to the UofL administration. Watch Video of the action.
On Sept. 11, 2014 and Oct. 18, 2013, over 100 UofL students, faculty and staff had the opportunity to meet the workers who sew UofL apparel on campus! The Departments of Social Change, Anthropology, and Peace Justice & Conflict Transformation, collaborated with Cards United Against Sweatshops, the Latin American and Hispanic Student Association, the Latin American and Latino Studies Organization, and Solidarity Ignite (contact: info@solidarityignite.org or Amy at 732-947-8630) to bring to campus two workers from the Alta Gracia Factory. Located in the Dominican Republic Free Trade Zone, Alta Gracia is the first college logo t-shirt factory to pay its workers a living wage, respect their democratic voice on the job, and provide a safe and healthy work environment as regularly verified by the Worker Rights Consortium, to which UofL belonged at the time. The result of decades of students and workers organizing in solidarity, Alta Gracia offers a stark contrast to the often exploitative conditions in garment factories and is transforming the lives of workers, the community of Villa Altagracia, and the wider apparel industry. Yenny Perez and Maritza Vargas, workers at the Alta Gracia factory, came to UofL to share their personal stories about decades of working in the textile industry and seeking dignified jobs. We listened to the stories of these inspiring union leaders; learned about the effect that a dignified wage has had on the community of Villa Altagracia and the wider garment industry; heard about the historic struggle for fair working conditions in the Dominican Republic Free Trade Zone; and discovered how to support the workers who sew our university logo apparel!
On June 21, 2016, without any notice to the campus community or the UofL Sustainability Council, the administration sent a cancellation letter to the Workers Rights Consortium just four days after Kentucky Governor Matt Bevin announced that then-President Ramsey would be stepping down as president and that the entire board of trustees of the university would be immediately disbanded and replaced.