UofL certified as Silver-level Bicycle Friendly University 2021-2025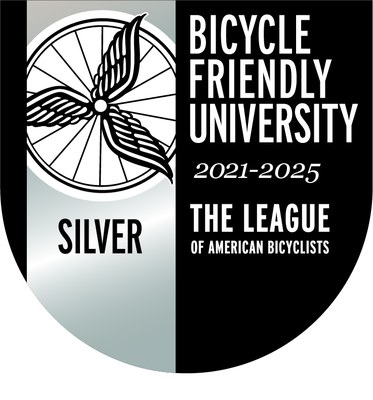 For the third time since 2013, the League of American Bicyclists has certified that the University of Louisville is a Bicycle Friendly University at the Silver level. The rating covers the period 2021-2025.
UofL takes take great pride in the bicycle friendly campus we have created for our students, faculty, staff, and visitors!
UofL's Sustainability Council recognizes human-powered transportation as a vital tool in our sustainability tool belt for tackling climate change, improving the health of our campus community, and reducing the costs of accommodating cars on campus. Whether you're considering bike commuting to campus, pedaling across campus, or just taking a mid-day spin to grab some lunch or do some errands, we encourage you to take advantage of all we provide to help you get in gear!
The League of American Bicyclists is the premier grassroots advocacy organization encouraging better bicycling and protecting the rights of people who bike. Receiving a  Bicycle Friendly University
award from the League signifies that UofL has made significant achievements in promoting and enabling safe, accessible bicycling on campus.
As UofL's Sustainability Coordinator, Dr. Justin Mog, attests, "getting to campus under my own power on a bicycle each day keeps me healthy, happy, sane, and rich! Bikes not only allow me to get around without polluting our environment or endangering the health and lives of other people and animals on our streets, but I get a workout while saving a ton of money and hassle. It is so liberating to never have to worry about parking, traffic jams, insurance, gas, carjackings, or any of that mess. And bikes are just plain fun. When I bike to campus, I don't experience road rage, I get road joy!"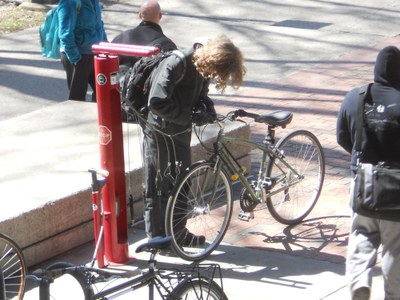 Even before gas prices started to rise, AAA estimated in August 2021 that the average new car owner in the U.S. spent $9,666, or $805 per month, on all of costs of vehicle ownership (beyond the price of purchasing the vehicle). Consider giving yourself a nearly $10,000 raise just by getting rid of your car and discovering the joys of biking, walking, transit, carpooling, and perhaps renting or borrowing a car for those occasional instances when its truly necessary.
This year, UofL was one of 33 schools across the nation to be recognized with a Bicycle Friendly University Award. The official announcement of the 2021 BFU Awards was made on March 9, 2022 through the distribution of a national press release and on their website here.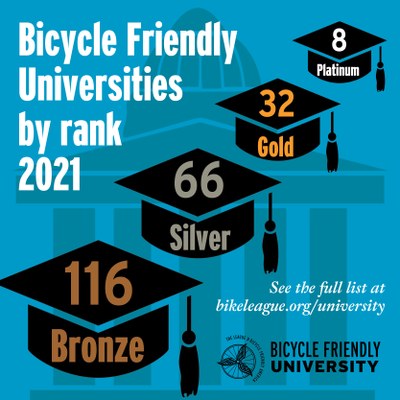 "I am pleased to celebrate 33 new and renewing Bicycle Friendly Universities joining the movement to build a Bicycle Friendly America for everyone," said Bill Nesper, executive director of the League of American Bicyclists. "On many campuses, bikes are simply another way to get around but at Bicycle Friendly Universities, like UofL, students, faculty and staff are encouraged to think beyond the utility of bikes as transportation, truly valuing their ability to foster a healthier, more connected campus life. Even in the midst of a pandemic that left many no choice but to transition online, these universities are not only making it safer and easier for people to get around their campus by bike but finding ways to keep campus bike culture alive and well."
"The applications from colleges and universities in 2021 demonstrate the myriad challenges educational institutions are overcoming in order to serve the needs of their students and employees," said the League's Bicycle Friendly America program director, Amelia Neptune. "What's clear is that bicycling is part of the solution many colleges and universities are using to better the campus life of their communities and we are grateful to have so many partners in our effort to keep the bike boom rolling!"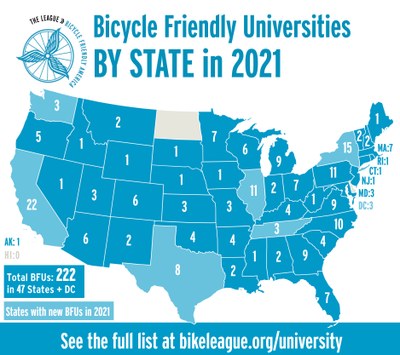 With this announcement, there are now 222 Bicycle Friendly Universities in 47 states and the District of Columbia. Four of those schools are in Kentucky (current levels and dates of first gaining status below):
University of Kentucky (Gold, 2012)
University of Louisville (Silver, 2013)
Morehead State University (Silver, 2016)
Transylvania University (Bronze, 2015)