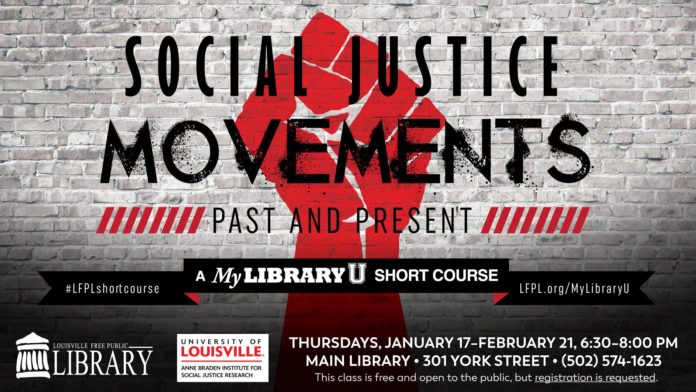 Several University of Louisville professors are taking their expertise to the public early this semester as invited participants in Louisville Free Public Library's MyLibraryU.
"The University of Louisville and its professors are such an amazing resource for the community," said Paul Burns, LFPL's communications director. "The Louisville Free Public Library started the MyLibraryU program to make college-level learning experiences accessible to the public by scheduling free short courses and fast classes on a variety of topics during the year."
For the first 2019 short course, the library staff wanted to explore social justice movements. LFPL Program Coordinator Aaron Rosenblum suggested Catherine Fosl, director of UofL's Anne Braden Institute for Social Justice Research, would be perfect to help spearhead the six-week, multi-instructor course, Burns said. Here's the speaker lineup for that course:
Jan. 17-Feb. 21: "Social Justice Movements: Past and Present," a short course on Thursday nights, will feature six scholars from UofL's College of Arts and Sciences, Brandeis School of Law and the School of Public Health and Information Sciences, as well as University of Kentucky, presenting aspects of social movements. The weekly social-justice topics and presenters are listed online. 
Jan. 17: "100 Years of Housing-Justice Movements in Louisville," Catherine Fosl, Anne Braden Institute for Social Justice Research and women's and gender studies
Jan. 24: "Youth-led Immigrant Justice Movements," Enid Trucios-Haynes, law
Jan. 31 – "Using History to Build a Movement," Lara Kelland, history and comparative humanities
Feb. 7 – "School-to-Prison Pipeline and Mass Incarceration," Cherie Dawson-Edwards, criminal justice
Feb. 14 – "Global Solidarity," Karen Tice, UK women's and gender studies
Feb. 21 – "Transgender Health and Social Justice," Ryan Combs, public health and information sciences
"Also, through LFPL's ongoing partnerships with the Commonwealth Center for the Humanities and Society and the Liberal Studies Project, the Main Library is delighted to host Andreas Elpidorou's upcoming fast class on 'The Bright Side of Frustration' and Karl Swinehart's fast class on 'Indigenous Languages of the Americas,'" Burns said. Here are details about those one-night educational events:
Jan. 15: "The Bright Side of Frustration" fast class, UofL philosophy professor Andreas Elpidorou will share examples of how negative emotions can have a positive impact on life. He'll share stories of art, mathematical discoveries, animal behavior, video games and neuroscience. The professor will explore how frustration surprisingly can lead to invigoration and energy, as he also discusses in his forthcoming 2019 book "Propelled Toward the Good Life."
Feb. 12: "Indigenous Languages of the Americas" fast class. Linguistic anthropologist Karl Swinehart, comparative humanities, will give an overview of how Native American languages live on in certain words as well as the means of communication for millions of people throughout the hemisphere. He will discuss grammatical features, address some language myths and share examples of contemporary language activism such as hip-hop among youth in Bolivia.
All the January and February MyLibraryU short courses and fast classes will be at 6:30 p.m. at the Main Library, 301 York St. Although they are free, registration is requested to reserve a spot by calling 502-574-1623.