Cards Commuter Challenge
When

Aug 26, 2019 12:00 AM

to


Sep 30, 2019 11:55 PM

Where

university-wide

Contact Name
Justin Mog
Add event to calendar

vCal




iCal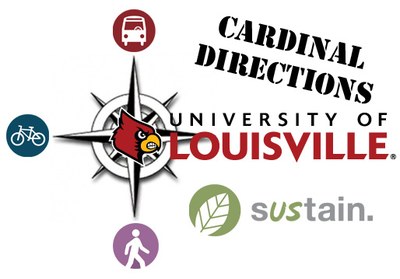 UofL wants you to save money, burn calories, put an end to pollution, and win prizes…all by simply choosing to get to campus in a new way!
Record your trips throughout the Cards Commuter Challenge (August 26 - September 30) and each week you'll have the chance to win $250 worth of fabulous weekly prizes or be the Grand Prize Winner who takes the most trips by means other than driving alone and you'll receive the $250 grand prize!
Step 1: Join the Challenge online!
Step 2: Challenge yourself (and your friends!) to get to campus differently!
Try these life-affirming alternatives to the expense, road-rage, pollution, and parking hassles of driving alone:
* NOTE: Though fun and certainly better than driving, getting around via lazy, coal-powered electric scooters does not qualify for this Challenge. Skip the dirty electricity and use your muscles to qualify!
Explore all of UofL's Sustainable Transportation Options.
Step 3: Log your trips to win!
The only way to be in the running for prizes is to log all of your commute trips online with Cardinal Directions or Every Commute Counts.
Connect with us, trash-talk, and post about your commute on Facebook.
RESULTS:Cards Commuter Challenge saves $1,999 and 4,772 lbs. of carbon pollution!!
The 39 participants in the inaugural Cards Commuter Challenge 8/26-9/30 logged 1,422 alternative commute trips, reducing 6,889mi of car travel, saving $1,999, and preventing 4,772 lbs. of carbon pollution. Our student winner, Rusty Crofts, saved $199, burned 28,840 calories, and kept 392 lbs CO2 out of the air through 150 bus & walking trips of 596mi. Our employee winner, Dental Clinic Associate, Lynette Mercado-McQuiston logged 52 vanpool trips of 2,350mi. Kudos for thinking outside the car.