UofL's pop-up Urban Design Studio created to position Louisville for the future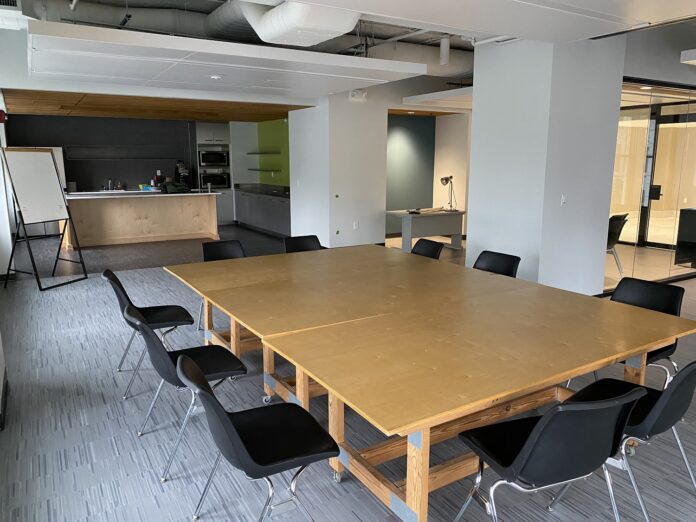 The design of cities directly affects human and environmental health, and with health and ecological disasters unfolding around the globe seemingly daily, urgency is growing for public-health and urban-design professionals to collaborate to improve the built environment.
Over the next six months, the University of Louisville's Urban Design Studio (UDS), part of the Department of Urban and Public Affairs, will explore how the city of Louisville can serve as a living laboratory for research, education and experimentation at the Healthful City Design Studio at 429 W. Muhammad Ali Blvd. This temporary pop-up location, an addition to the current UDS location in the Portland neighborhood, offers a space in which community members can dive into issues and opportunities specific to the heart of downtown.
"This is an exciting opportunity to pull together the threads of urban planning and design, public health, equity, ecology, engineering, economics and more to focus on how these overlapping facets of the city can not only solve problems we face now, but also position our downtown and city for the future," said UDS Director Patrick Piuma. "I believe we have the talented minds throughout our community to examine these aspects of our city, and our hope is to find ways to unlock the creativity needed to become a leader in this space."
To kick off the pop-up, Piuma, alongside colleague and entrepreneur Sylvanus Hudson, will develop a series of events, workshops, demonstration projects and more to bring together professionals and the local community to explore how the built environment affects health and what it means to be a healthy city. The team will be joined by collaborators from other UofL departments, Louisville Metro Government, the University of Kentucky and related organizations and individuals as the direction of the initiative takes shape.
Early events and activities will be focused on outreach and education, getting people together to share ideas about what a healthy city looks like and collaborative demonstration projects to communicate the importance of cooling urban heat islands, improving air and water quality, planting trees and other vegetation, public safety, welcoming environments and the health benefits of reintroducing nature into urban environments.
"The pandemic has revealed the importance of the built environment on health and how valuable safe and healthy places are in promoting public health and resilience," said Aruni Bhatnagar, director of the Christina Lee Brown Envirome Institute.
The goal of the effort will be to create a unique urban laboratory for innovation where UofL becomes a stronger partner with the community, public officials and others to develop novel solutions to the challenges our city faces. This initiative is an offshoot of the Downtown Revitalization Team's Action Plan that calls for making downtown more vibrant, clean, safe and welcoming.
"It is critical for Louisville to invest in its natural and built environments to improve residents' health, as well as be a competitive city in the 21st Century," said Jeff O'Brien, co-chief of Louisville Forward. "We can design our cities to prepare us for the changing climate and improve our health, all while making the city a more vibrant and equitable place."
The UDS initiative will draw on past programs such as the Sustainable City Series' public forums that raised awareness of sustainable practices and has led to place-making projects such as ReSurfaced and CycLOUvia.
The Healthful City Design Studio opens Monday, Nov. 8.
Source: UofL's pop-up Urban Design Studio created to position Louisville for the future (UofL News, Nov. 2, 2021)