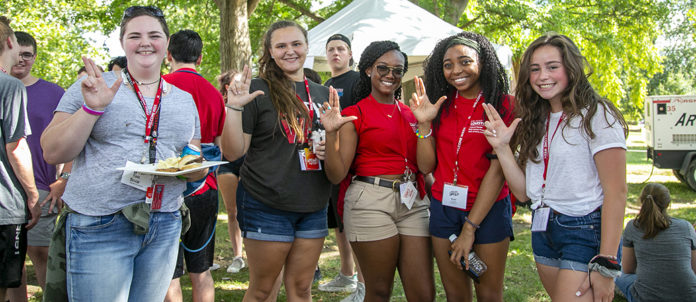 Classes at UofL start today, and preliminary figures show a large, diverse student body, with increased numbers participating in non-traditional paths to graduation including part-time or online degree programs. 
More students are taking advantage of Metropolitan College, a partnership with United Parcel Service that makes it possible for students to earn a degree and graduate debt-free. There also is an upsurge in new students enrolled part-time, many of whom are interested in the university's growing number of online degree programs, which tend to attract adult students who work full-time. 
"UofL strives to be an institution where every student can create their own path to graduation, including traditional, online and part-time students. I'm excited to see continued growth in programs that serve every type of student," said UofL President Neeli Bendapudi. "This will be my second incoming class, and I've been counting down the days until the fall semester begins."
The increased participation in the Metropolitan College program is most likely attributed to UPS' boost in the starting wage to $14 for overnight package handlers, effectively drawing a greater number of students who work for the shipping company, which then pays for their full-time undergraduate tuition. Metropolitan College also recently implemented an option for students to begin the program part time during a "transitional" semester, contributing to the university's uptick in freshmen attending school part time. 
Another factor in the increase of part-time students is the growing number of completely online programs. UofL offers more than 35 online programs including master's, bachelor's, certificates and teaching endorsements. Of this fall's new students, 485 plan to earn their degrees completely online; most of those are adults returning to college. UofL's current online enrollment for all students is 1,469. 
The increased availability of online programs and strong partnerships with Metropolitan College and Jefferson Community & Technical College have helped UofL attract 77 transfer students for fall semester. JCTC students can participate in the Metropolitan College program.
Of students starting today, nearly 2,600 are freshmen. Here's a snapshot of the first-time freshman class:
56% have some college credits
17% are African American or identify as mixed race
6% are Hispanic/Latino 
72% live on campus 
17% are first-generation college students
25.6 is the average ACT score, well above the 2018 Kentucky average of 20
3.6 is the average high school grade-point average, based on a 4.0 scale
22% are from outside Kentucky
38 states represented
271 part-time incoming freshmen, up 70 from last year
Psychology, biology, business, education and nursing are the five most popular majors.