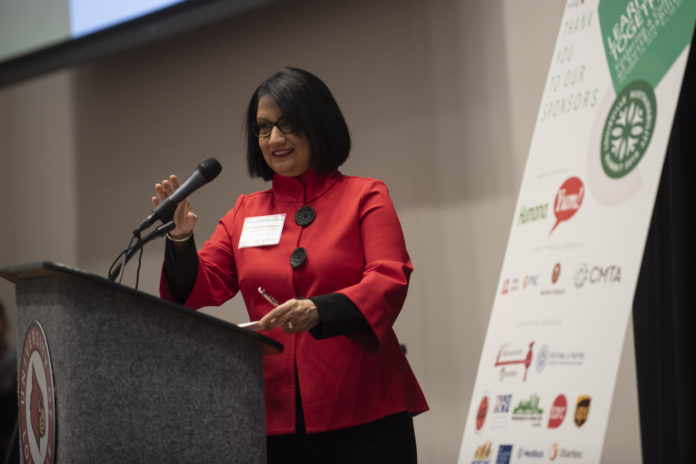 What does the University of Louisville have in common with the Columbia University, Princeton University and Oxford University? All are members of the United Nations Sustainable Development Solutions Network.
UofL has joined 684 universities and research centers throughout the world to advise the United Nations on sustainable development. The announcement was made today at the Louisville Sustainability Summit, which UofL is hosting for the first time. 
"Inclusion in this international effort recognizes our efforts over the decades to impact our world in a meaningful way when it comes to sustainability," said UofL President Neeli Bendapudi. "From the Conn Center looking for renewable energy sources and our university-wide efforts to reduce our carbon footprint to our recent creation of the Envirome Institute that focuses on health sustainability, we have a long history of trying to leave a better planet."
Additionally, UofL will be a founding member of the U.S. Solutions Network later this year.
 "The UN Sustainable Development Solutions Network is honored to welcome the University of Louisville to the global network," said Columbia University Professor Jeffrey D. Sachs, advisor to the Secretary General of the UN and director of the Sustainable Development Solutions Network. "The SDSN looks forward to working closely with the Envirome Institute and city and community leaders to advance the Sustainable Development Goals. Our efforts together will help to advance well being in Louisville and around the world."
The national and regional networks support the localization of the 17 goals set out by the UN and agreed to by 193 nations in 2015. Local networks will promote long-term pathways for sustainable development, promote high-quality education and research collaboration for sustainable development, and support governments in understanding and addressing the challenges of sustainable development.
Through these efforts, the networks are working to create a future in which poverty has been eradicated, the planet is protected and people are ensured the ability to enjoy peace and prosperity.
"We feel a tremendous sense of responsibility to be a founding member of this nation's grassroots effort," Bendapudi said. "All of us at the university in collaboration with our community partners look forward to spearheading efforts to better understand how our environment, in the broadest sense of the word, impacts us as individuals."
Led by Aruni Bhatnagar, Ph.D., the Smith and Lucille Gibson Chair in Medicine, the UofL Envirome Institute takes a holistic approach to researching how the human-environment interrelationship impacts peoples' lives. In addition to building on Bhatnagar's pioneering work establishing the field of environmental cardiology, UofL will incorporate community engagement and citizen science to introduce a singular, new approach to the study of health.
"Our researchers, staff and students will explore new concepts associated with examining the elements of a single person's overall environment and determine how that affects their lives. The impact this will have will be felt well beyond Louisville," Bendapudi said.
Source: UofL joins prestigious group advising United Nations on sustainability solutions (UofL News, Oct. 19, 2018)