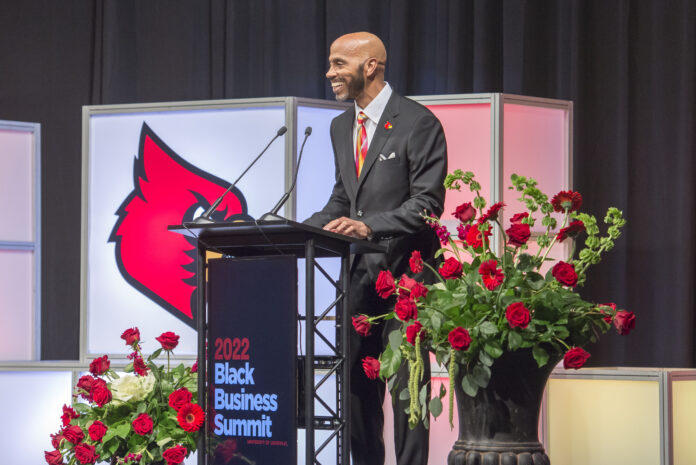 A new event at the University of Louisville centered on building and strengthening relationships with local businesses.
UofL's inaugural Black Business Summit was held April 28 in the Main Ballroom of the Student Activities Center. Hosted by UofL Interim President Lori Stewart Gonzalez, along with Louisville ambassadors and business leaders Alice Houston, Ira Salls, Junior Bridgeman, Darrell Griffith and new UofL men's basketball coach Kenny Payne, the evening included cocktails and a dinner presentation on how locally-owned companies can build mutually beneficial relationships with the university. 
The Black Business Summit showcased how collaboration can support student success and build a talent pipeline to all Louisville businesses. Over 300 guests attended representing 120 businesses from all sectors and areas of the community.
During the evening, guests heard from the university's top leadership including Gonzalez, Interim Senior Vice Provost Gail DePuy, Interim Athletic Director Josh Heird and Payne.
"One of our Cardinal Principles is diversity and inclusion and, as we add more events like the Black Business Summit, we continue to provide opportunities to exemplify that Cardinal Principle," Gonzalez said. "The Black Business Summit was an opportunity for business owners, but it was an even bigger opportunity for us to see how we can partner and grow with our local community."
In addition to the speakers, video messages were played throughout the evening from Houston, Salls and Bridgeman, who each shared stories about their personal connection with UofL and the importance of empowering students to become the next generation of business leaders.
The Black Business Summit also was an opportunity for the university to share the mission and vision of the new Center for Engaged Learnin, a resource designed to improve students' educational experience while creating opportunities with our community businesses. These opportunities include internships, apprenticeships, research projects, community service and more.
"The success of this event proves how the community wants to grow its ties to UofL," Griffith said. "I'm grateful to be involved in creating such a great event, and I'm excited to see how we can continue creating partnerships locally."
UofL and the Department of Procurement Services are committed to engaging with the local community to increase awareness of potential opportunities for supplier diversity and develop mutually beneficial relationships with all businesses.
Source: UofL hosts inaugural Black Business Summit to connect with the community (UofL News, May 5, 2022)