Old Louisville Tree Planting
When
Apr 17, 2021
from

09:00 AM

to

12:00 PM

Where

Cochran Elementary School (1601 S 6th St)

Contact Name

Herb Fink

Contact Phone

502-552-0399

Add event to calendar

vCal




iCal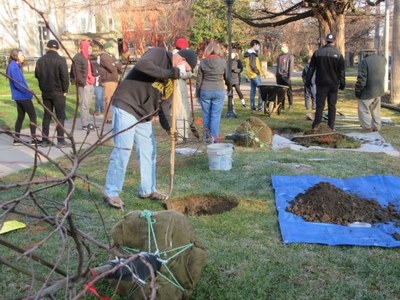 Meet up at field west of Cochran Elementary School (1601 S 6th St)

The Old Louisville Neighborhood Council and the UofL Sustainability Council invite volunteers to help restore the urban canopy in our tree-borhood just north of Belknap Campus.
We'll be planting 50-60 street trees (2" dbh) with our neighbors at locations scattered throughout the neighborhood.
Planting sites: Gaulbert @6th, Hill @3rd, 6th @Magnolia, 6th @Park, Ormsby @2nd, Brook @Oak, Brook @Magnolia, and Burnett @Floyd.
Volunteers should report to the central check-in site on the field west of Cochran Elementary School to be assigned to small, physically distanced tree-planting teams.
Donuts, coffee and light breakfast items will be available prior to 9am, when work will begin. A pizza lunch will be served for all volunteers after the trees are planted.
All are welcome. Tools will be provided, but volunteers may also bring their own shovels and gloves. Masks and physical distancing required.
In the case of rain, this event will be held on April 24th.
Questions should be directed to Herb Fink 502-552-0399.