Garden Commons Workshop: Aquaponics
When
Oct 28, 2022
from

01:00 PM

to

02:00 PM

Where

Garden Commons (SW corner of Strickler Hall)

Add event to calendar

vCal




iCal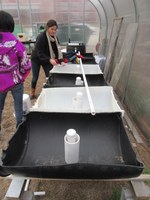 Join us in UofL's student-run, organic Garden for a workshop lead by EcoReps Intern, Chelsea Erbacher, on aquaponics, a food production system that couples aquaculture with hydroponics whereby the nutrient-rich aquaculture water is fed to hydroponically grown plants, where nitrifying bacteria convert ammonia into nitrates.
It's a means of using fish waste to grow fresh vegetables in tanks.
The Garden Commons has experimented with aquaponics in our greenhouse in the past, and Chelsea is helping construct a new aquaponics system at UofL's Community Composting Project, which we will walk over to, if time allows.
This is a UofL Sustainability Week event!