Sustainability Roundtable: Government Support of Community-Managed Urban Gardens
When
Sep 14, 2018
from

11:00 AM

to

12:00 PM

Where

Urban Studies Room 200 (426 W Bloom St)

Add event to calendar

vCal




iCal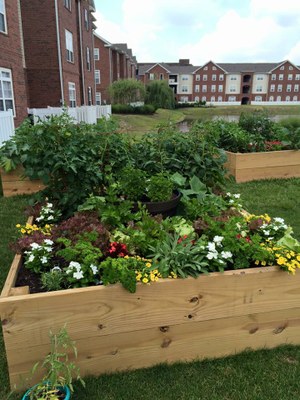 Please join us for UofL's Sustainability Roundtable series on alternating Fridays at 11am!
Our speaker on September 14th will be Willow Dietsch (M.S. Interdisciplinary Sustainability Studies), speaking about her thesis on Government Support of Community-Managed Urban Gardens in Chicago and Louisville.
As urban populations rise, small greenspaces, like gardens, are increasingly important to well-being of communities, and urban sustainability as a whole. However, past development, and current political and economic challenges encumber many cities in providing adequate greenspace. Cities like Chicago, IL and Louisville, KY have turned to the communities to manage greenspaces with help from partner organizations. This thesis examines these arrangements, and compares them in terms of several potential factors, (i.e. legal authority, responsibility, and support).
Semi-structured interviews of important community greenspace stakeholders, and archival sources including original documents, news articles, and government reports, were used to understand the context of these cases. Results indicate that Chicago's NeighborSpace program, a government-supported non-profit land trust, strongly exhibits the hypothesized factors. Whereas, Louisville's reliance on the Jefferson County Cooperative Service, with insufficient authority or support, is less effective and does not empower communities. NeighborSpace may serve as a model for Louisville. 
The remaining Roundtable schedule is as follows:
Sept. 28 - Speaker TBD
Oct. 12 - Professor Tony Arnold (Brandeis School of Law), Resilience Justice
Oct. 26 - Dr. Tamara Sluss (Director, UofL's Interdisciplinary Masters Program in Sustainability), Title TBA
Nov. 9 - Fulbright Scholar Tiago de Melo Cartaxo (Nova University, Lisbon, Portugal), Title TBA

The format is a 30-40 minute presentation from a variety of speakers, followed by 20-30 minute open discussion. Please feel free to bring your lunch! Anyone with an interest in sustainability can give talks at the speaker series and participate in the audience, including faculty, staff, students, practitioners, teachers, government officials, and members of the public. If you would like to give a presentation, or would like to hear a particular speaker, please contact Daniel DeCaro.