EcoReps Lunch & Learn: Native Plants
When
Aug 30, 2019
from

12:00 PM

to

01:00 PM

Where

Ekstrom Library room W210

Contact Name
Brian Barnes
Contact Phone

502-338-1338

Add event to calendar

vCal




iCal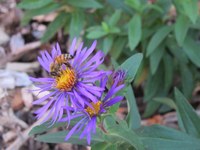 Join us for our monthly EcoReps Lunch & Learn workshop featuring a free vegetarian lunch and locals making a difference in sustainability!
Our guest speaker to kick off the new year will be UofL Biology Professor Emeritus, Margaret Carreiro, who is an expert on native plants and the role they play in supporting pollinators and the entire web of life that we all depend on.
As species around the world and in our region go extinct at unprecedented and alarming rates, many of us feel powerless to contribute directly to conservation solutions because we think "real" Nature can only be sustained in parks and reserves. But, believe it or not, by creating more thoughtful species-friendly habitat, people in cities, suburbs and rural areas can weave more local Nature into the very places where we live and work. Can ordinary people play an important species conservation role for our region in cities and towns? What types of support might we need to save and enjoy more of our local biological heritage in our neighborhoods? Come hear Dr. Margaret Carreiro speak about some success stories. Then let us all contribute our ideas to this critical and hopefully ongoing discussion so, we can create more win-win situations for both people and nature around our homes, schools and workplaces.
The Sustainability Council's EcoRep
s program is designed to move students, faculty & staff beyond talk to action for a more sustainable UofL! We provide basic training & resources, service opportunities, and leadership positions as a point-person & peer-to-peer advocate for sustainability.
This fall, we continue our series of in-person workshops each month on last Fridays at noon in Ekstrom Library room W210. Join us for lunch and bring your reusable plate, utensils, and cup to minimize waste! All are welcome.
More info on EcoReps website.