Contacts
People from all over UofL are involved in sustainability initiatives. These are some key contacts.
UofL Student Groups addressing sustainability issues
Other UofL Campus Sustainability Groups
Local Organizations promoting sustainability in our community
Support our sustainability initiatives by designating your gift for the Green Fund for UofL (under Academic Support, Student Scholarships & Programs) in the Designations field when you donate here.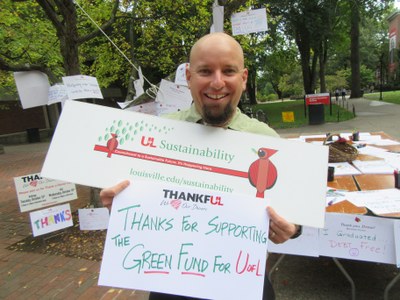 Assistant to the Provost for Sustainability Initiatives

Justin Mog
502-852-8575
justin.mog (at) louisville.edu
Room 215, Urban Studies Institute
426 W Bloom St.
Louisville, KY 40208

Dave Simpson
502-852-8019
dmsimp01 (at) louisville.edu

Sajid Mian (AVP Facilities Management)
502-852-0200
sajid.mian (at) louisville.edu
Subcommittee Chairs:

TBD

Subcommittee Chair:

Tamara Sluss
(502) 502-852-4040
tamara.sluss (at) louisville.edu

Sustainability Engagement Committee Chair
& Eco-Reps Program Director

Brian Barnes
502-338-1338
brian.barnes (at) louisville.edu
Student Government Association

Lydia Burns (2019-20 Services V-P)
859-553-4597


Contact information available here.
Green Unit Teams for Sustainability (GUTS) Representatives
Dean-appointed sustainability representatives at the school or college level who work together with UofL's Sustainability Council to improve and facilitate initiatives, programming, and activities in their units and across the University.
| | | |
| --- | --- | --- |
| Unit | Rep | Email |
| School of Law | Robin Harris | robin.harris@louisville.edu |
| College of Education & Human Development | Sherri Brown | |
| Kent School of Social Work | Sarah Caragianis | |
| Medical School | Karan Chavis | |
| Dental School | MaryPat Chiavaroli | |
| Speed School of Engineering | Dr. Jacek Jasinski | |
| College of Arts & Sciences | Mary Ashlock | |
| Music School | Bruce Heim | |
| School of Public Health & Information Sciences | Bob Esterhay | |
| School of Nursing | Dr. Luz Huntington-Moskos | |
| College of Business | Beth Davis-Sramek | |
| Libraries | Sarah Drerup | |
Sustainability Council Departmental Liaisons
Liaisons are a first point of contact with their respective departments (or units). The purpose of this role is to improve coordination and planning across campus, helping to build a stronger, more connected social network for sustainability research, teaching, administration, and operations. They work to actively inform their departmental Chairs and colleagues about important sustainability activities, basically helping connect departments with the Sustainability Council and its committees. They also work to inform the Council and its committees about department culture, needs, and opportunities.
Department/Unit

Rep

Email

Anthropology

Angela Story
Jonathan Haws
angela.storey@louisville.edu
jonathan.haws@louisville.edu

Brandeis School of Law

Tony Arnold

Biology

Mark Running
Mark.running@louisville.edu

Business

Ying (Julie) Huang
Beth Davis-Sramek
y.huang@louisville.edu
elizabeth.davissramek@louisville.edu

Chemistry

Classical/Modern Languages

Communication

Nick Paliewicz
nicholas.paliewicz@louisville.edu

Dental School

Gerald Grant
gtgran01@exchange.louisville.edu

Economics

Education & Human Development

Sherri Brown

English

Engineering (Speed School)

Mark McGinley
Dr. Jacek Jasinski
m.mcginley@louisville.edu
j0jasi01@exchange.louisville.edu

Fine Arts

Ying Kit Chan
Moon-he Baik
ying.chan@louisville.edu
moon@louisville.edu

Geography/Geosciences

History
Humanities
Karl Swinehart
karl.swinehart@louisville.edu
Latin American and Latino Studies
Anna Browne Ribeiro
anna.browneribeiro@louisville.edu
Mathematics
Csaba Biro
c0biro01@louisville.edu
Medical School
Karan Chavis
k0chav01@exchange.louisville.edu
Military Science
Music School
Bruce Heim
dbheim01@exchange.louisville.edu
Nursing
Dr. Luz Huntington-Moskos
lghunt02@exchange.louisville.edu
Pan African Studies
Philosophy
Brian Barnes
brian.barnes@louisville.edu
Physics and Astronomy
Political Science
Rodger Payne
rodger.payne@louisville.edu
Public Health & Information Science
Scott LaJoie
Aruni Bhatnagar
scott.lajoie@louisville.edu
aruni.bhatnagar@louisville.edu
Psychological & Brain Sciences
Daniel DeCaro
daniel.decaro@louisville.edu
Social Work (Kent School)
Sarah Caragianis
sjcara01@exchange.louisville.edu
Urban & Public Affairs
Daniel DeCaro
David Simpson
daniel.decaro@louisville.edu
david.simpson@louisville.edu
Women & Gender Studies
UofL Dining (Aramark) Sustainability Coordinator
Ellen Trahan
502-224-5350  
Barringer-ellen (at) aramark.com


Brent Fryrear
502-852-8854
brent (at) partnershipforagreencity.org