2017 Calvino Prize Winners
2017 Calvino Prize Winner: Eliezra Schaffzin
Please join us in congratulating Eliezra Schaffzin, the winner of the 2017 Calvino Prize. Final Judge Brian Evenson had this to say about her story, "Cingo, Cingere, Cinxi, Cinctum":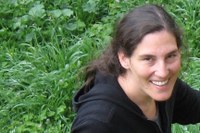 "A subtle and masterful story that demonstrates that one can make powerful fiction out of the smallest things and the strangest glitches.  Beautifully written, this story accumulates quietly from sentence to sentence until, seemingly effortlessly, it becomes a numinous and quietly haunting meditation on the nature of perception." 
Eliezra Schaffzin has taught writing at Harvard University and the Rhode Island School of Design. Her short stories and essays have appeared in AGNI, Washington Square, PANK, and the Harper Perennial anthology Forty Stories, among other publications. She is currently juggling several longer works-in-progress, including an opera libretto about a famous child abduction; a novella about college applicants, Beethoven's choral music, and aerial drones; and a novel about magic, seduction, and the first American department stores, for which she received a research fellowship from the New-York Historical Society. She holds an MFA in Creative Writing from the University of Florida.
Runner-up
Katharine Haake, "Dyptich: Fuzz, Milk"
Honorable Mentions
Brenda Peynado, "The Lion and the Beauty Queen"
Zachary Vickers, "Karst"
Finalists
Becky Hagenston, "The Celebrity"
Joseph Scapellato, "Cowgirl"
Kate Simonian, "It Goes Both Ways"
Reena Shah, "Flamingos"
Anthony Varallo, "The Bottom of This: Stories"
S. P. Tenhoff, "Winter Crane"
Richard Ballou, "The Empty Seat and Other Open Spaces"
Frances Gapper, "Married to a Carrot"
Katie Dieter, "The Dive"
John Blair, "White Sands"
Noelle Catharine Allen, "No Se Preocupen Por Mi (Don't Worry About Me)"