Graduate Studies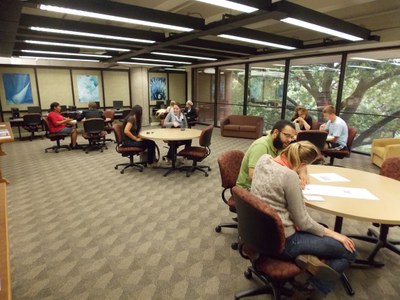 Our recent MA graduates have gone on to pursue doctoral studies at such universities as Rice University, the University of Pittsburgh, and the University of New Hampshire; others have gone on to careers in such fields as education and publishing.The University of Louisville's English Department offers both an MA program in English Studies and a nationally recognized PhD program in Rhetoric and Composition.
Both programs provide students with the opportunity to further their understanding of the research, writing, and pedagogy that comprises graduate work in English studies.  With over twenty-five full time faculty members, graduate students are able to take courses in creative writing, English and American literature from the medieval period to the present, and rhetoric and composition.  MA and PhD candidates undertake original research and creative projects, gain a mastery of English studies and its various sub-disciplines, and learn the theoretical and practical reach of humanities research. 
Our PhD program boasts a successful track record of placing graduates into tenure-track positions. Recent program graduates have gone on to such universities as the University of Alabama, Berea College, Oberlin College, the University of Pittsburgh, Queens College (CUNY), State University of New York, Syracuse University, Wake Forest University, and the University of Washington.
Questions?
For more information on our MA and PhD programs, please contact Dr. Joseph Turner, Director of Graduate Studies or Lisa Cox, Graduate Studies Assistant, at (502) 852-0505.
Research
Graduate students in both our MA and PhD programs work closely with faculty who are active scholars and writers in a wide variety of fields. For more information on faculty research interests and publications, visit our faculty pages. Some notable recent faculty publications include:
PhD Dissertations
Research in the PhD program will culminate in a dissertation, supervised by faculty in the English Department and one "outside reader." Click here for an overview of previous dissertations.
Professional Opportunities
Students are encouraged to participate in two internationally recognized conferences: the annual Louisville Conference on Literature and Culture since 1900 and the biennial Thomas R. Watson Conference on Rhetoric and Composition.  The Watson endowment also allows for a distinguished visiting professor to teach a graduate course at the university each year the conference is not held.  Graduate students thus have the opportunity to work with up to two Watson professors during their time at the University of Louisville.
Graduate students at the University of Louisville are also encouraged to pursue a range of professional opportunities.  Such opportunities include the following positions:
Assistant Director of Composition
Assistant Director of the Writing Center
Assistant to the Thomas R. Watson Conference
Graduate Editor of Miracle Monocle
Digital Media Assistant
Research Assistant
Other opportunities are circulated to graduate students as they become available.
Contact Information 
Phone: (502) 852-6801  Fax: (502) 852-4182
Dr. Joe Turner (Graduate Program Director): By appointment 852-3055