Recent Graduate Capitalizes On Internship
Recent Graduate Capitalizes On Internship
By Stuart Esrock, Ph.D.
A December UofL graduate used a final semester internship to advance her interests in helping others while at the same time building on her foreign language skills. Shanga Mwenda immigrated from Kenya six years ago and just graduated with an individualized major in Intercultural Advocacy as well as a minor in Spanish.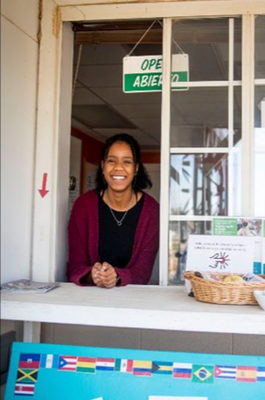 Shanga Mwenda
Mwenda did a social services internship at the Backside Learning Center, a non-profit that assists track workers at Churchill Downs.  "The Backside Learning Center provides educational opportunities and resources the workers need to thrive. My work mostly consisted of translation and assisting the staff in the social services department with case management, the food distribution program, and outreach to the community. 
Mwenda was especially appreciative of the opportunity to build on knowledge she gained in the classroom at UofL and working closely with the Center staff. "They are passionate about their work and happy to answer questions. It allowed me to learn a lot about the different roles and paths to working in a non-profit, which I hope to do in the future. My Spanish also greatly improved. This is a great skill to have in any field and is advantageous as a job or graduate school applicant."
Mwenda was so successful during her internship that, "I did receive a longer-term full-time job offer, and I am excited to have more conversations about that with my superiors."  In the meantime, she has additional plans post-graduation.  "In the spring, I plan to intern at my church and assist the college ministry staff in planning the summer missions program. In the fall, I hope to start my Masters in Counseling and Personnel Services at UofL." 
Mwenda advises all UofL students to do an internship or co-op before graduation. "It exposes you to the field you are interested in and helps you discern your strengths, weaknesses, and values in the workplace. An internship also gives you the opportunity to see the ins and outs of the career you are interested in, which can be motivational to keep pursuing it, or could serve as redirection to another career path or passion."
Shanga Mwenda had a great internship experience and you can, too! More information about internships can be found on the UCC Internship website. If you are interested in an internship during the fall or spring semester, be sure to talk with your program's internship coordinator in advance since you may be eligible for academic credit and you can also potentially get assistance in seeking a position. Finally, if you want to look at some current internship position listings/opportunities, log onto Handshake.