Virtual Meeting Etiquette
VIRTUAL MEETING ETIQUETTE
By Stuart Esrock, Ph.D.
As we bunker down in the midst of the coronavirus outbreak, many of us increasingly find ourselves in online meetings.  We are using platforms like Microsoft Teams, Zoom, FaceTime, GoToMeeting, and more for work, school, and for socializing.  But, an assistant director at the UofL University Career Center thinks that you need to behave differently, depending on whether you are using these conferencing tools for fun or for serious purposes. Mallory Newby has tips for those occasions when you will be conferencing for work with your supervisor and members of your team.
Sure anything goes when you are getting together with your friends for a Zoom happy hour, although it can be annoying when everyone tries to talk at the same time.  On the other hand, Newby said when you are going to be in a meeting for work, always be sure to mute your microphone when you are not speaking. "Background noises at your home and things like coughs, throat clearing, etc. will become a distraction to the meeting. This will require you to be attentive during the meeting and unmuting when you are called upon to talk."
Newby thinks it is important to give your full attention to the meeting, treating it just like you would if you were in the same room. "Avoid working on other tasks, checking your email or texts as tempting as it may be, as you never know when it might be your turn to provide an update. You might also miss something important that someone else is saying. Look into the camera when speaking as opposed to the screen; doing otherwise makes it appear you are looking off or away from the attendees."
Another tip is to NOT use your keyboard during a meeting. Because your computer microphone is close to the keyboard, that tapping sound can be distracting to others if your mike is on. If you need to take notes, better to do so the old fashioned way; with a pen and piece of paper. And have something to eat BEFORE your meeting; nothing worse than watching someone munching away in the midst of an important discussion.
Newby advises you to be conscious of your surroundings and how you'll look on camera.  Make sure your background is appropriate and professional as opposed to using your disheveled bedroom for example.  Take a few minutes before your virtual meeting to look like you are working. Better that you are wearing a clean shirt and have brushed your hair than to let your co-workers see you in your jammies with bedhead. "And, make sure that you are in a place with good lighting, raise your camera so that it is at eye level; your table is likely to be lower than your face, and looking down at your screen is not a flattering angle. You can use a set of books to use as a platform to get your phone or computer camera to eye level."
Newby's last piece of virtual meeting advice: "Don't slouch but get comfortable - you may be there for a while."  
For more advice in a graphic format about virtual meeting etiquette, check out this graphic provided by the Manheim Central School District in Pennsylvania: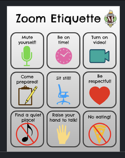 Here's a link to a recent workshop about online etiquette from the University Career Center.
And you can also always get advice about online business etiquette from your UofL career centers in the College of Business, Speed School, Law School, and the University Career Center.