Psychology Student Intern Learning to Work Remotely
PSYCHOLOGY STUDENT INTERN LEARNING TO WORK REMOTELY
By Stuart Esrock, Ph.D.
A UofL Psychology major is using her current internship to not only advance her career interests, but also to learn how to adjust to the increasing remote work environment.  Marissa Robertson is a Louisville senior with plans to graduate this May.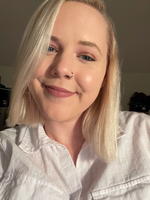 Marissa Robertson
Robertson has been working during the spring semester as an intern at Seven Counties Services. Seven Counties provides mental health and addiction recovery services to adults and children around the region.  Robertson has been doing online research for best practices in therapy worksheets.  She has also been creating a "Virtual Therapy Room" that clients can use during the pandemic. 
Because of the pandemic, all of Robertson's internship work has been online.  "It's been a bit of a learning curve for me, as I've had to familiarize myself more with some of the online services being used, but I believe the online experience has been just as rewarding as it would have been in-person.  I like that I am able to do the work on my own time since it's online, but I do sometimes miss the in-person interactions with people, and I think it would have been interesting to see what day-to-day work is like outside of the pandemic."
After graduation, Robertson plans to go to graduate school and eventually get a Ph.D. in clinical psychology.  She hopes to eventually do the kind of work that is done at an organization like Seven Counties, and Robertson's internship is moving her firmly toward that career goal. "I love the real-world experience I am able to get in the field.  It's also been so interesting for me to see what it's really like in the mental health field and to get to know some of the people who have been working in it for many years."
Robertson thinks other students would similarly benefit from an internship or co-op experience.  "Do it!  I was extremely nervous going into my internship, but I am so glad that I did it.  I've learned so much already.  It's such a rewarding experience and anyone who does it will not regret it."
You can find out more about internships on the UCC Internship website, plus review our recent virtual workshop Interning 101.  If you are interested in obtaining academic credit for your internship or co-op, be sure to reach out to the coordinator/director in your UofL academic program.