Intern Advances Medical Interest While Learning About Society
INTERN ADVANCES MEDICAL INTERESTS WHILE LEARNING ABOUT SOCIETY
By Stuart Esrock, Ph.D.
A UofL pre-med student has been able to apply what he learned in the classroom through his internship with an area medical clinic.  But he has also discovered important lessons about our society through the experience.  Thomas Seebold will graduate in May with a major in Anthropology and minor in Spanish, and he has been interning with the Mercy Medical Clinic in Shelbyville.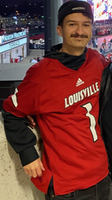 Thomas Seebold
The Lexington senior (who thankfully claims to be a long-time Cardinal fan!) is serving as a foreign language interpreter at the clinic. Even though his formal internship has ended, he plans to continue to volunteer there until graduation.
Through the internship, Seebold realized how important the clinic is to those who don't have insurance.  "The most impactful aspect of my internship was seeing how much one clinic can impact a community. Before going into my internship, I had a general grasp on the healthcare disparities faced by the Hispanic/Latinx community here in Kentucky, but my experience gave me firsthand experience regarding the ways in which these disparities can be mitigated. It gave me the opportunity to feel like I was making a difference, even if it was just one person at a time."
Seebold said the internship provided hands-on clinical hours for his resumé, which will benefit him as he applies to medical schools. Beyond that, "The experience gave me assurance that I belong in the medical field, and the connections I made there gave me even more motivation to succeed and achieve my goals of becoming a doctor. Before this semester, I didn't realize how much an internship could affect my professional and personal development. This opportunity gave me a window into my possible future and helped me develop many skills that I know will be useful regardless of my career path."
Seebold advises any student, regardless of major or career goals, to take the time to do an internship. There are many internship opportunities available to UofL students, so you can have the same kind of great experience that Thomas had.  Be sure to talk with your program's internship coordinator about possible opportunities and academic credit. More information about internships can be found on the University Career Center website. Finally, if you want to look at some current internship position listings/opportunities, log onto Handshake.