Internship Empowering Future Community Advocate
By Morgan Flynn, Communication Graduate Assistant  
Aiko Jones is a current graduate student from Kingston, Jamaica with a unique academic background. She holds both a B.A. in Biology and a B.A. in Communication from the University of Louisville and is currently pursuing her Master's in Communication. Alongside her academic pursuits, Jones is a member of the Volleyball team. Beyond her role as a student-athlete, she is committed to forging a career path that leverages various mediums of communicationto bring about meaningful change within her community.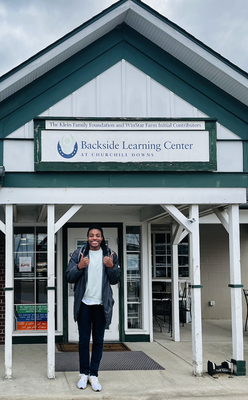 Jones completed an internship in the Spring of 2023 as a Communication Intern at The Backside Learning Center of Churchill Downs, an independent non-profit organization providing support and resources for racetrack workers and their families. They offer programs centered around educational support for both adults and youth, health and wellness, human services and more. 
Her responsibilities included assisting the BLC team with event streaming and coverage, organizing records in Microsoft Excel, TikTok strategy and content, and managing the social media initiatives for the Purses for a Purpose program, an initiative providing horse owners a way to give back to those who are the backbone of the horseracing industry. 
Reflecting on her internship experience, Jones shared, "The most rewarding aspect of working at the BLC was contributing to the well-being of racetrack workers and their families, recognizing their often-unacknowledged contributions to the city of Louisville." 
Among the many memorable moments during her internship, one particularly stood out: a morning when she observed the horses' training and gained valuable insights into manual mode photography techniques. She called it a "two-for-one opportunity." 
Jones attributes her success during the internship to the guidance and teachings of her professors in the Communication Department. Their valuable insights equipped her with the skills needed to excel, bridging the gap between her diverse academic background and the requirements of the non-profit sector. She noted, "My professors in the Communication department provided me with skills applicable across various domains, including the non-profit sector. The well-rounded knowledge I gained from my courses enabled me to effectively assist underserved immigrant communities." 
In the future, Jones hopes to create meaningful change within the community through digital storytelling and content creation. "The BLC internship taught me tangible techniques and a great wealth of people skills that will help me as I continue to build my portfolio as a creator and storyteller." 
She offers advice to students looking for an internship or job, "Don't be afraid to step outside your comfort zone. Be honest with your employer about your experience and be willing to learn new things."