Overview
General Surgery Residency Program Overview
The general surgery residency program is supervised by Dr. Matthew Benns, Program Director, Dr. Keith Miller and Dr. Farid Kehdy, Associate Program Directors and Dr. Kelly McMasters, Chair for the Department of Surgery at the University of Louisville (UofL). This five-year ACGME-accredited training program is founded on several key principles: intense experience in patient care and decision-making, early operative exposure and the development of surgical science. This philosophy has developed through a rich history of surgical education and continues to produce the finest clinical and academic surgeons of our day. Our graduating chief residents have the general knowledge, clinical judgment and basic technical skills to be confident and knowledgeable general surgeons or to continue their training in any competitive fellowship.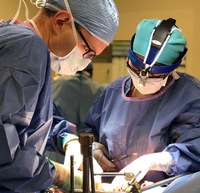 Autonomy: The UofL program offers an atmosphere of independence and graded responsibility that facilitates growth as a young surgeon. Residents gain early operative experience culminating in the chief year being fully credentialed at University and VA Medical Centers. The surgical intensive care units continue to be managed by surgical residents and faculty. Our residents gain significant critical care experience during dedicated ICU months in the PGY-1 and PGY-2 years.
Patient-based training: University of Louisville surgical residents train in a hands-on, non-simulated environment. With a large number of patients and very busy services, residents are exposed to a variety of surgical techniques very early in training. This experience is central to the Department's philosophy.
Operative experience: The sizeable patient base and variety of affiliated hospitals allow each resident to gain the breadth and depth of surgical experience necessary to gain board certification and feel confident practicing general surgery. Throughout the five-year program, most residents will perform 1,200 cases including complex hepatobiliary, oncologic, vascular, transplant, pediatric, trauma, laparoscopic and robotic procedures. Residents also gain significant experience in interventional endoscopy, thoracoscopy and endovascular techniques.
Facilities: Residents rotate through five major hospitals creating a diverse experience in various patient populations. University Hospital, Norton Children's Hospital, Norton Hospital and Jewish Hospital are all downtown within four city blocks while the VA Medical Center is only 3.5 miles away. Residents enjoy this close proximity and the ability to attend most departmental conferences and meetings. Rural rotations at the Regional Medical Center in Madisonville and Owensboro Health Regional Hospital are also offered.