Integrated Hospitals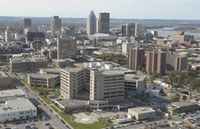 Resident Education should be broad-based and varied. It should contain not only varied operative experience, but also diverse exposure to types of patients from differing income and social strata, educational backgrounds, and ethnic groups. To obtain this diverse experience, our program has fully integrated all of the major hospitals that comprise the medical center campus an area of several square blocks of sophisticated hospitals as well as the Veterans Administration Medical Center, located two miles away.
Thus, our full-time faculty and resident staff have full access to more than 1,500 hospital beds and 150 operating rooms. The surgical trainee is exposed to a variety of diagnostic preferences, technical variations, and overall clinical diversity because the attending staff members come from diverse schools of surgery. In the age of managed care, when large groups of patients may shift quickly from one provider to another as a result of provider contract negotiations, this arrangement ensures a steady patient population and provides tremendous flexibility of training.
Surgical residents are expected to participate in pre- and post-operative care on all rotations and be responsible for completion of appropriate paperwork including history and physicals, daily notes, operative notes, and discharge summaries. It is expected that the attending surgeon will be consulted as consistent with both his moral and legal responsibility to the patient. Should your performance be particularly conscientious, you may reasonably expect to do part or all of some operations, under direct supervision, when the attending surgeon has had the opportunity to come to know your abilities.
The volume and diversity of this surgical experience should be such that it will greatly increase the facility with which you learn surgery including a greater depth of understanding of this challenging field. The assignment of full-time faculty to each institution has enhanced the value of the experience, with particular reference to continuity, conferences, and overall surgical education.