Congratulations to the Graduates of the 91st Command Officers Development Course!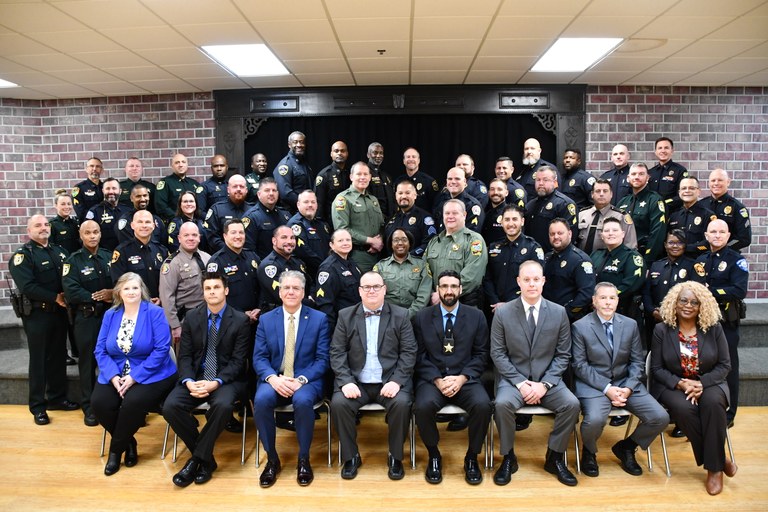 CONGRATULATIONS 
to the members of the 91st Command Officer's Development Course, graduating as we speak today in Clermont, Florida! Fifty-two students representing thirty-one agencies from five different states will be receiving their diplomas for completing the 400 hour, ten-week course covering law enforcement administration and management practices for mid and upper-level personnel.
Many, MANY thanks to the Clermont Police Department for co-hosting the CODC with us again, to all of our knowledgeable instructors for sharing their invaluable wisdom and expertise in their respective fields, and to course coordinator Dr. Melanye Smith for all her hard work! We appreciate you all.
Director's Award Recipients:
Sgt. Gustavo Escalante, Leesburg PD, FL
Capt. Daniel McCaskill, South Carolina Dept. of Natural Resources
Sgt. Sean Murphy, Orange Co. SO, FL
Class Officers of the 91st Command Officers Development Course 
President: Sgt. William Chip Irwin, Windermere Police Department, FL
Vice President: Capt. Lee Ellis, South Carolina Department of Natural Resources 
Historian: Sgt. Tim Cruther, Apopka Police Department, FL
Chaplain: Undersheriff Thomas W. Raulen, Indian River County Sheriff's Office, FL
Events Coordinator: Supervisor Tanya DePalmo, Orange County Sheriff's Office, FL
91st Command Officers Development Course Class Roster:
Capt. Cesar Andina, Miramar PD, FL
Sgt. Shaunta Ballard, D'Iberville PD, MS
Sgt. Troy Barbour, Titusville PD, FL
Lt. Kyle Barineau, Dept. of Financial Services/Div of Investigative & Forensic Ser., FL
Lt. John Borzner, Ormond Beach PD, FL
Lt. Stuart Campbell, Florida Highway Patrol, FL
Lt. James Capeletti, Winter Garden PD, FL
Lt. Carlos Chaparro, Winter Garden PD, FL
Sgt. Timothy Crutcher, Apopka PD, FL
Lt. Dennetta Dawson, South Carolina Dept. of Natural Resources, SC
Supervisor Tanya DePalmo, Orange Co. SO, FL
Lt. Brian Donohue, Orlando PD, FL
Lt. April Durias, Winter Garden PD, FL
Capt. Lee Ellis, South Carolina Dept. of Natural Resources
Sgt. Gustavo Escalante, Leesburg PD, FL
Capt. Jean Gabriel, Orlando PD, FL
Sgt. Leonardo Gomez, Ocoee PD, FL
Major Jeremy Gonzalez, Titusville PD, FL
Lt. Menachem Green, Orange Co. SO, FL
Sgt. Shane Groth, Bunnell PD, FL
Sgt. Dennis Hall, Clermont PD, FL
Sgt. Joshua Hall, Winter Haven PD, FL
Lt. Sandy Hidalgo, Osceola Co. SO, FL
Sgt. Brian Hilberer, Fruitland Park PD, FL
Lt. Nicholas Incontrera, Div of Investigative and Forensic Service, Bureau of Fire/Arson/Explosives, FL
Sgt. Chip Irwin, Windermere PD, FL
Sgt. Robert Judges, Lake Mary PD, FL
Capt. Alex JuDon, Miami Gardens PD, FL
Sgt. Christa Kemeny, Mount Dora PD, FL
Lt. Michael Layne, Clay Co. SO, FL
Sgt. Robert Mark, Jr., Apopka PD, FL
Capt. Daniel McCaskill, South Carolina Dept. of Natural Resources
Lt. Willilam McClain, Palm Beach Co. SO, FL
Capt. Garvin McComie, Winter Park PD, FL
Lt. Anthony Mondello, St. Cloud PD, FL
Sgt. Sean Murphy, Orange Co. SO, FL
Lt. Jose Nater, St. Cloud PD, FL
Sgt. Joel Nicholson, Osceola Co. SO, FL
Sgt. Garrett Pantano, Orange Co. SO, FL
Major Darren Patchin, Shepherdsville PD, KY
Sgt. Robin Petrie, Orange Co. SO, FL
Capt. Eugene Picou, DeKalb Co. Marshal's Office, GA
Sgt. Ronald Raslowsky, Orange Co. SO, FL
Undersheriff Thomas Raulen, Indian River Co. SO, FL
Sgt. Debbie Reasoner, Clermont PD, FL
Sgt. Eric Ruiz, Clermont PD, FL
Lt. Elizabeth Sovacool, Orange Co. SO, FL
Lt. Joshua Strobridge, Sanford PD, FL
Sgt. Marc Thompson, Clermont PD FL
Lt. Christopher Thompson, Florida Highway Patrol
Lt. Sean Walsh, Ocoee PD, FL
Lt. Hollis Wood, Jr., Key West PD, FL