Congratulations to the Class of the 76th CODC!
It's graduation day for the members of the 76th Command Officer's Development Course in West Hartford, CT and a momentous occasion for us all, as this is the first graduating class of the CODC in the New England area! The Southern Police Institute partnered with the J. Allen Lamb & Edward S. Pocock III Foundation (under the direction of 129th AOC alumni Edward Pocock), who provided a significant scholarship opportunity for law enforcement in the area, and the West Hartford Police Department, to bring this vision to reality. 

Director Cindy Shain is in West Hartford, CT today to personally congratulate the members of the 76th CODC, which includes 42 officers from 2 states in 28 law enforcement agencies. We wish you all the best of luck in your future endeavors!
---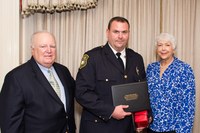 76th CODC Director's Award Recipient:
Capt. Christohper W. Chute, New Britain (CT) Police Department
---
76th CODC Class Roster:
| | | | | |
| --- | --- | --- | --- | --- |
| Rank | First Name | MI | Last Name | Department |
| Lt. | Michael | D. | Perruccio | West Hartford PD |
| Det. Sgt. | Eric | A. | Rocheleau | West Hartford PD |
| Lt. | Bart | O. | Barown III | Torrington PD |
| Deputy Chief | John | F. | Carbone | Clinton PD |
| Lt. | Mark | J. | Catania | Glastonbury PD |
| Lt. | Robert | J. | Catania | Rocky Hilll PD |
| Capt. | Christopher | W. | Chute | New Britain PD |
| Lt. | Michael | J. | Coates | Hartford PD |
| Capt. | Michael | D. | Davis | Connecticut State Police |
| Capt. | Christopher | A. | Davis | Manchester PD |
| Lt. | Stephen | J. | Elliott | Southington PD |
| Lt. | Arthur | L. | Fredericks | Bloomfield PD |
| Lt. | Mark | | Giancotti | Townsend PD |
| Lt. | Richard | F. | Guerrera | Bristol PD |
| Lt. | Frederick | J. | Jortner Jr. | Cheshire PD |
| Lt. | Todd | W. | Kozaryn | Bristol PD |
| Lt. | Kristian | R. | Lindstrom | South Windsor PD |
| Lt. | Max | C. | Martins | Orange PD |
| Lt. | Christopher | M. | McKee | Windsor PD |
| Lt. | William | | Meier III | Vernon PD |
| Capt. | William | P. | Palmieri | Southington PD |
| Lt. | Richard | A. | Perron | Madison PD |
| Capt. | Joseph | A. | Race | Madison PD |
| Lt. | Michael | S. | Reynolds | Hartford PD |
| Lt. | Mark | G. | Salaio | Sturbridge PD |
| Lt. | James | E | Salvatore | Bloomfield PD |
| Lt. | Samuel | A. | Soukup | Wallingford PD |
| Deputy Chief | Fernando | C. | Spagnolo | Waterbury PD |
| Capt. | Daniel | M. | Spaulding | West Springfield PD |
| Lt. | Jeffrey | M. | Sutherland | Cheshire PD |
| Sgt. | John | T. | Szewczyk Jr. | Hartford PD |
| Lt. | Stephen | K. | Tavares | Bristol PD |
| Lt. | Sonia | G. | Watson | Hartford PD |
| Capt. | Keith | E. | White | Monroe PD |
| Lt. | Ronald | A. | Young | Amherst PD |
| Lt. | Manuel | | Cotto | Bridgeport PD |
| Lt. | David | J. | Emerman | East Haven PD |
| Lt. | Frank | A. | Montagna Jr. | East Haven PD |
| Capt. | Joseph | S. | Slane | East Haven PD |
| Sgt. | Aaron | A. | Vafiades | West Hartford PD |
| Det Lt | Mark | C. | Walerysiak | Meriden PD |
| Capt | Michael | J. | Zakrzewski | Meriden PD |