Congratulations to the Graduates of the 148th Administrative Officers Course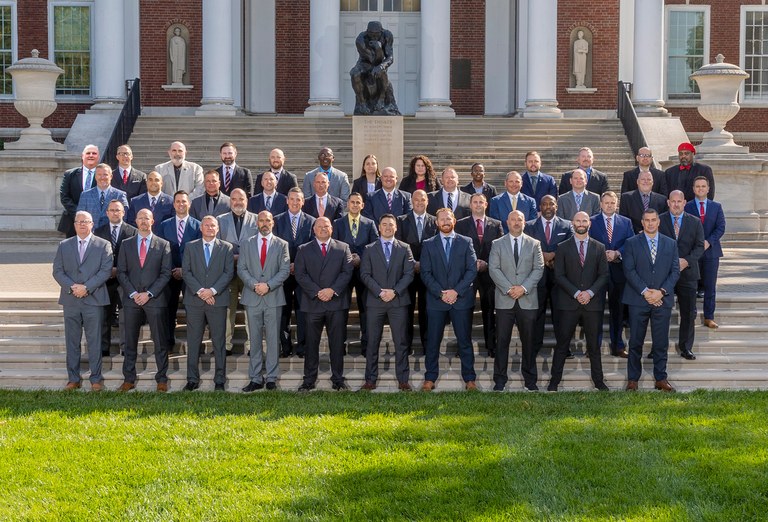 Congratulations to the graduating class of the 148th Administrative Officers Course! Today, November 10, 2022, 38 class members representing 35 agencies in 22 states will be receiving their well-earned diplomas after a tough semester! You're SPI family wishes you all the best in your future endeavors!
148th AOC Banquet and Graduation Photos
148th Administrative Officers Course Class Officers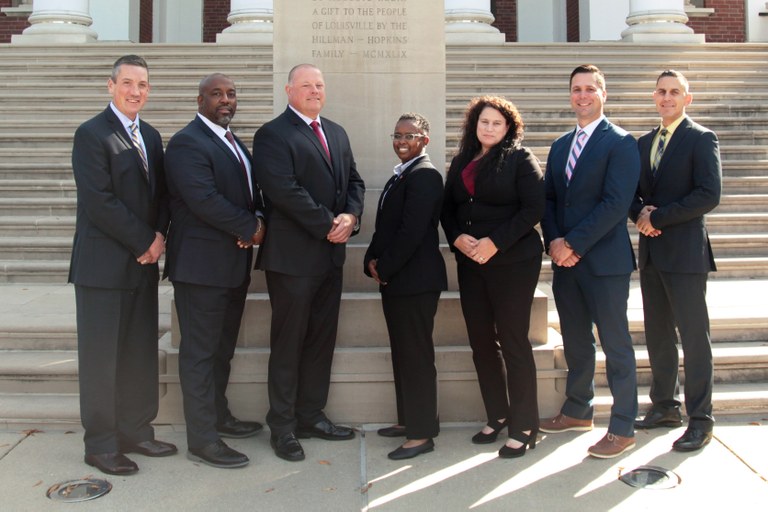 Class President: Capt. Alicia White - Baltimore PD, MD (center)
Vice President: Capt. Greg Smith - Monroe PD, CT (3rd from left) 
Treasurer: Lt. Leanette Tillis - Indian River Co. SO, FL (3rd from right)
Secretary: Lt. Robert Wright - Yuma PD, AZ (far right) 
Historian: Lt. Adam Miller - West Lafayette PD, IN (2nd from right)
Peer Advocate: Major Tony Hughes - DeKalb Co. PD, GA (2nd from left)
Sgt. at Arms: Lt. Brendan Brazunas - Upper Merion PD, PA (far left)
Award Recipients of the 148th Administrative Officers Course
Dr. William Walsh Director's Awards
The Dr. William Walsh Director's Award is awarded to the graduate and undergraduate student with the highest grade point average (GPA) in each session of the Administrative Officers Course.
Dr. William Walsh was the Director of the Southern Police Institute for 15 years – serving from 1993-2008. He has demonstrated strong commitment and support to SPI and to the Department of Criminal Justice for many years. This award for academic excellence was named after Dr. Walsh by his successor, Dr. Thomas Hughes, in 2009. It continues to be a coveted recognition at the conclusion of each semester.
148th AOC Undergraduate Option:
 Lt. Michael Connolly, Wethersfield Police Dept., CT
148th AOC Graduate Option: 
 Cmdr. Michael O'Neill, Ramsey Co. Sheriff's Office, MN
B. Edward Campbell Award For Outstanding Service
The B. Edward Campbell Service Award is given by the Southern Police Institute. This award is for "meritorious service to fellow Law Enforcement Officers of the 134th Administrative Officers Course by Demonstrating Leadership and Commitment to the Shared Goals and Objectives of the Southern Police Institute."
This award was created to celebrate the devotion and nearly 40 years of service to the University of Louisville and the Southern Police Institute by Professor Emeritus B. Edward Campbell.
The 148th AOC Recipient:
Capt. William Davis, Joplin Police Dept., MO
148th Administrative Officers Course Class Roster:
Lt. Anthony Allaire, Polk Co. Sheriff's Office, FL
Lt. Scott Bartlett, Alaska Dept. of Public Safety, AK
Lt. Michael Beath, Port Saint Lucie Police Dept., FL
Lt. Brendan Brazunas, Upper Merion Township Police Dept., PA
Lt. Kyle Bruns, Wentzville Police Dept., MO
Capt. Creston Burton, Tennessee Valley Authority Police, TN
Sgt. Kyle Burton, Shepherdsville Police Dept., KY
Sgt. Justin Click, Glen Carbon Police Dept., IL
Lt. Michael Connolly, Wethersfield Police Dept., CT
Lt. Daron Cooper, Alaska State Troopers, AK
Sgt. John Cruz, Auburndale Police Dept., FL
Capt. William Davis, Joplin Police Dept., MO
Sgt. Daniel Elkins, Jr., Bartlesville Police Dept., OK
Sgt. Daniel Gilbert, Jeffersontown Police Dept., KY
Lt. William Harden, Charlotte Co. Sheriff's Office, FL
Det. Sgt. Josh Hines, Union Township Police Dept., OH
Major Romaldo Hughes, DeKalb Co. Police Dept., GA
Lt. Keith Jackson, Collinsville Police Dept., IL
Capt. James Jackson, Hillsborough Co. Sheriff's Office, FL
Sgt. Alexander Jaeger, City of Sheboygan Police Dept., WI
Lt. John Leonard, Washoe Co. Sheriff's Office, NV
Lt. Adam Miller, West Lafayette Police Dept., IN
Cmdr. Michael O'Neill, Ramsey Co. Sheriff's Office, MN
Capt. Derek Ortado, Stuart Police Dept., FL
ASAC Joshua Packer, DHS, Coast Guard Investigative Services, OH
Deputy Commander Gregory Peleaz, Gulfport Police Dept., MS
Corporal Jessica Pitts, Bartlesville Police Dept., OK
Sgt. Jeff Rogerson, Milwaukie Police Dept., OR
Lt. Brian Salkeld, Charleston Police Dept., SC
Lt. Mike Siney, Jr., Miami TWP Police Dept., OH
Capt. Gregory Smith, Monroe Police Dept., CT
Lt. Michael Spade, Lakeland Police Dept., FL
Capt. Greg Streukens, University of Florida Police Dept., FL
Lt. Leanette Tillis, Indian River Co. Sheriff's Office, FL
Capt. Christopher Wells, Tennessee Valley Authority Police, TN
Capt. Alicia White, Baltimore Police Dept., MD
Capt. David Whitley, Danville Police Dept., VA
Lt. Robert Wright, Yuma Police Dept., AZ