Congratulations to the Graduating Class of the 136th AOC!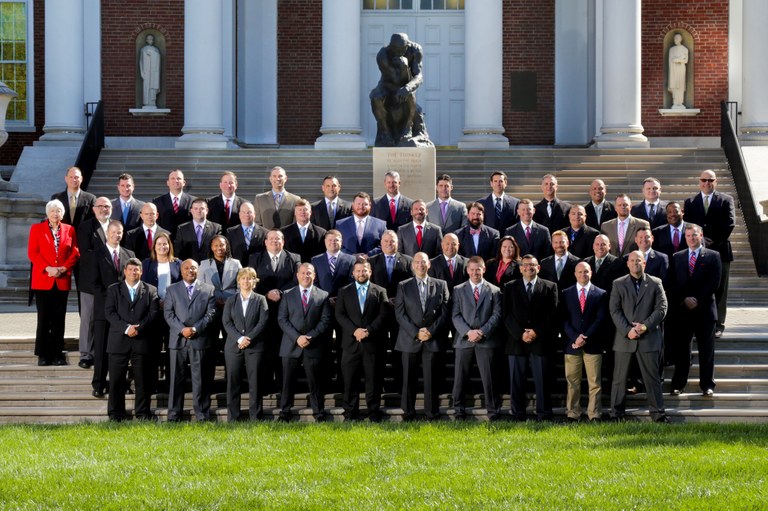 Congratulations to the graduating class of the 136th Administrative Officers Course! Fourty-five officers representing thirty-eight agencies from sixteen states graced the stage of The Playhouse here at the University of Louisville on November 3, 2016, to receive their diplomas. We have enjoyed having you all here over the past 12 weeks and can't wait to see what future accomplishments you all achieve!
---
Award Recipients of the 136th Administrative Officer's Course
Given November 3, 2016
Dr. William Walsh Director's Awards
The Dr. William Walsh Director's Award is awarded to the graduate and undergraduate student with the highest grade point average (GPA) in each session of the Administrative Officers Course. 
Dr. William Walsh was the Director of the Southern Police Institute for 15 years – serving from 1993-2008.  He has demonstrated strong commitment and support to SPI and to the Department of Criminal Justice for many years.  This award for academic excellence was named after Dr. Walsh by his successor, Dr. Thomas Hughes, in 2009.  It continues to be a coveted recognition at the conclusion of each semester.
136th AOC Undergraduate Option:
Assistant Chief Brian E. Harrell, Bowling Green (KY) Police Department
136th AOC Graduate Option:
Sgt. Scott D. Mack, Leesburg (FL) Police Department
---
B. Edward Campbell Award For Outstanding Service
The B. Edward Campbell Service Award is given by the Southern Police Institute. This award is for "meritorious service to fellow Law Enforcement Officers of the 134th Administrative Officers Course by Demostrating Leadership and Commitment to the Shared Goals and Objectives of the Southern Police Institute."
This award was created to celebrate the devotion and nearly 40 years of service to the University of Louisville and the Southern Police Institute by Professor Emeritus B. Edward Campbell.
The 136th AOC Recipient:
Sgt. Taichiang Ku, Pinellas Park (FL) Police Department
---
Class Officers of the 136th Administrative Officers Course:
President: Sgt. Lee Bruce, Alaska State Troopers
Vice President: Commander Eric Watters, Miramar (FL) Police Department
Secretary/Treasurer: Sgt. Lakisha Gross, Cincinnati (OH) Police Department
Class Historian: Sgt. Ryan Clark, Madisonville (KY) Police Department
Chaplain: Sgt. Michael Hans, Palm Beach County (FL) Sheriff's Office
Sgt. At Arms: Sgt. James Adams, Louisville Metro (KY) Police Department
136th Administrative Officers Course Class Roster:
Sgt. James S. Adams, Louisville Metro Police Dept
Sgt. Dawn C. Alexander, Citrus Co. Sheriff's Office
Sgt. Edward V. Blair, Citrus Co. Sheriff's Office
Chief Deputy Floyd Bonner, Jr., Shelby Co. Sheriff's Office
Sgt. Vernon M. Brown, Jefferson Co. Sheriff's Office
Sgt. Lee T Bruce, II, Alaska State Troopers
Lt. Josh Cahoon, Carthage Police Dept.
Sgt. Ryan Clark, Madisonville Police Dept.
Lt. Todd W. Davis, Charlotte Co. Sheriff's Office
Capt. Ruben Delgado, Tampa Police Dept.
Sgt. Chris Duke, Richland Co. Sheriff's Dept.
Sgt. Ward R. Feger, Vernon Hills Police Dept.
Capt. Michael A. Felts, Hopkinsville Police Dept.
Lt. Luis F. Fernandez, Sumter Co. Sheriff's Office
Sgt. Jason A. Grissom, Louisville Metro Police Dept
Sgt. Lakisha Gross, Cincinnati Police Dept.
Sgt. Michael J. Hans, Palm Beach Co. Sheriff's Office
Assistant Chief Brian E. Harrell, Bowling Green PD
Lt. Jeffrey R. Heil, Dane Co. Sheriff's Office
Major Cindy Henson, Overland Park Police Dept.
Sgt. Kevin S. Isenhoward, Richland Co. Sheriff's Dept.
Deputy Chief Steven Kostas, New Port Richey Police Dept.
Sgt. James V. Krummrich, Fairview Heights PD
Sgt. Taichiang Ku, Pinellas Park PD
Sgt. Scott D. Mack, Leesburg Police Dept.
Capt. Mark Martinez, Yuma Co. Sheriff's Office
Lt. Andrew S. McClinton, Louisville Metro Police Dept.
Lt. Colonel Michael S. McVoy, Jeffersonville PD
Chief Deputy Brandon Medina, Nash Co. Sheriff's Office
Lt. Gretchen O'Neil, Rochester Police Dept.
Lt. Steven A. Pacheco, Lakeland Police Dept.
Deputy Chief Jeffrey M. Patterson, Littleton Police Dept.
Lt. Joel R. Phillips, Louisville Metro Police Dept
Sgt. Raymond R. Pollock, II North Myrtle Beach PD
Lt. Kenneth J. Raczynski, Jr. Polk Co. Sheriff's Office
Major Jamie Reynolds, Forest Park Police Dept.
Sgt. Phil L. Rollinson, Greenville Police Dept.
Det. Sgt. Donald P. Scott, Youngstown PD
Major Robert Ura, Hillsborough Co. SO
Lt. Christopher L. Van Brackel, Lexington Police Dept.
Cmdr. Eric Watters, Miramar Police Dept.
Sgt. Timothy A. Webb, Edgewater Police Dept.
Sgt. Harry E. Webster, Jr. Louisville Metro Police Dept
Lt. Ryan Yeager, Harrison Co. Sheriff's Dept.
Sgt. Brian T. Zeisel, Alaska State Troopers