Congratulations to the Graduates of the 86th CODC!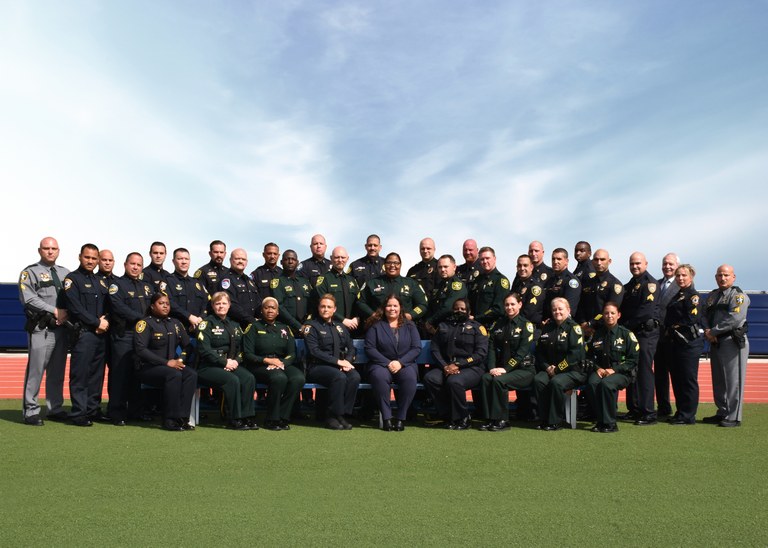 Congratulations to the 86th Command Officers Development Course whose graduation ceremony has just started moments ago in Ft. Lauderdale, FL! Today 35 members from 20 agencies in 3 states officially join the ranks of SPI Alumni. Today's graduation is limited to just the members of the class but is being recorded and we will be sharing afterward as soon as we are able.
The 86th CODC has the distinction of being the longest-running CODC ever with the interruption of COVID. We would have initially concluded in July, but the special set of circumstances had us coming up with unique solutions to finish out the course. Thank you to all the members of the 86th for sticking it out with us and for being flexible -- we truly do appreciate it and sincerely hope you enjoyed your experience!
Graduation Ceremony: https://youtu.be/avDGI9daj_g
86th Coordinator:  Earl Mitchell 
Director's Award Recipient: Lt. Jason B. Gibson, Jeffersonville PD, IN 
Class Officers:
President – Capt. Michele M. Naughton– Epps, Norfolk Police Department, VA
Vice President – Lt. Giovanni Fuente, Hialeah Police Department, FL
Secretary – Sgt. Julio C. Soca, Golden Beach Police Department, FL
Social Director – Lt. Clariveth Espada-Diaz, Florida Division of Alcoholic Beverages & Tobacco
Photographer – Sgt. Patricia O'Keefe, Monroe Co. Sheriff's Office, FL
Sergeant At Arms – Sgt. Alvarez S. Rice, Monroe Co. Sheriff's Office, FL
Class Roster: 
Lt. Alain C. Banatte, Margate PD, FL
Lt. Kenneth L Cooper, Sr., Broward SO, FL
Capt. Christopher J. De Giovanni, Broward SO, FL
Lt. Michael P. DeBree, Delray Beach PD, FL
Lt. Brandi N. DelVecchio, Coconut Creek PD, FL
Sgt. John Diaz, Plantation PD, FL
Sgt. Franco Dillena, Miramar PD, FL
Lt. Clariveth I. Espada-Diaz, FL Div of Alcoholic Beverage & Tobacco, FL
Lt. Giovanni C. Fuente, Hialeah PD, FL
Lt. Frank Fuentes, Coconut Creek PD, FL
Lt. Jason B. Gibson, Jeffersonville PD, IN
Cmdr. Erik Gleason, Miami Gardens PD, FL
Cmdr. Brittany M. Horn, North Miami PD, FL
Lt. Jenna B. Kriplean, Coconut Creek PD, FL
Sgt. Ashley E. Leahy, Monroe Co. SO, FL 
Capt. Barry S. Linquist, Broward SO, FL
Sgt. Vicki Lynn Lockwood, Monroe Co. SO, FL
Sgt. Benjamin Lopez, Collier Co. SO, FL
Lt. Andy Lozano, Miami Beach PD, FL
Lt. Yojans Martinez, Doral PD, FL
Sgt. Kyle A. Mastrianni, Plantation PD, FL
Lt. Kevin M. McClure, Broward SO, FL
Lt. Jenny C. McCook, Broward SO, FL
Capt. Michele M. Naughton-Epps, Norfolk PD, VA
Sgt. Kenneth Newell, Collier Co. SO, FL
Lt. Dan Noordeloos, Coconut Creek PD,  FL
Lt. Carlos Nuñez, Miami Springs PD, FL
Sgt. Patricia M. O'Keefe, Monroe Co. SO, FL
Sgt. Lissette Quintero, Monroe Co. SO, FL
Sgt. Alvarez S. Rice, Monroe Co. SO, FL
Lt. Michael A. Santiago, Lauderhill PD, FL
Sgt. Julio C. Soca, Golden Beach PD, FL
Sgt. Mishart S Torres, Miami Beach PD, FL
Sgt. Kevin Valade, Coconut Creek PD, FL
Sgt. Edwin Vargas, Bal Harbour PD, FL