Diversity, Equity, and Inclusion
Associate Dean of Equity and Inclusion
Dr. Emma Sterrett-Hong is the Associate Dean of Equity and Inclusion. Emma brings a wealth of experience, leadership, and passion into this new role. Since  joining the Kent School in 2011, she has taken on a number initiatives related to social justice, equity, and inclusion. As a few examples, she has been a member of and chaired the Kent School Diversity and Social Justice Committee, helped create and advise Shades (a university student group for LGBTQ+ students of color), served as a Board member for West Louisville Community Ministries (providing emergency rental, utility, and medical financial support to clients in predominately ethnic minority and from low-income communities), and was a founding Board member of Sweet Evening Breeze (provides LGBTQ+ affirming services to adults experiencing homelessness and housing insecurity).
More about Dr. Sterrett-Hong here.
---
Kent School Anti-Racism Position Statement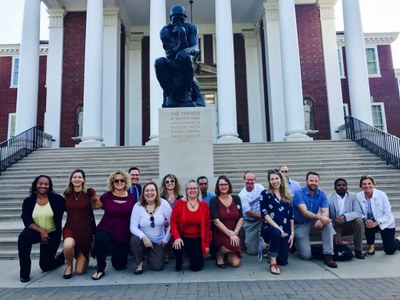 As part of its mission to be an anti-oppressive School, the Kent School of Social Work is dedicated to promoting anti-racism in all its endeavors, including service, research, teaching, practice, policies, and climate.  Anti-racism refers to the process of enacting policies and interpersonal interactions that recognize the absolute equality of people across societally defined racial/ethnic groups.  Anti-racism also refers to the process of enacting policies and interpersonal interactions to eradicate disparate outcomes observed between White people and Black, Indigenous, other People of Color (BIPOC).  Therefore, the Kent School seeks to reduce and eliminate inequities in recruitment, retention, and treatment of BIPOC students, staff, and faculty within the School.  In addition, the Kent School strives, through service, research, practice, and advocacy, to reduce and eliminate inequities in education, health and well-being affecting BIPOC throughout the university, city of Louisville, and society in general.   We approach our anti-racism work from an intersectional perspective, recognizing that BIPOC with additional marginalized identities, such as those who are also women, members of the LGBTQ community, religious minorities, and those with disabilities, face particular forms of oppression that need to be addressed to completely eliminate inequities affecting them.
---
Kent School Diversity, Equity, and Inclusion Overview 
Consistent with its focus on anti-oppression, the Kent School of Social Work seeks to promote diversity, equity, and inclusion among Students, Faculty, Staff.  This priority spans all aspects of the school, from its overall climate, to the various activities in which the Kent School is engaged, including education, research, administration/support, and service.  This Diversity, Equity, and Inclusion plan spans from Fall 2020, when Dean David Jenkins charged the School with becoming more anti-racist through Spring 2023. Download Kent School Diversity, Equity, and Inclusion.
---
Diversity Plan Progress Report
The Diversity Plan Progress Report outlines the UofL Diversity Plan as required by CPE. The report reviews the following areas: student recruitment and enrollment, student success, workforce diversity, campus climate, inclusiveness and cultural competency. Read the report.
---