Alumni News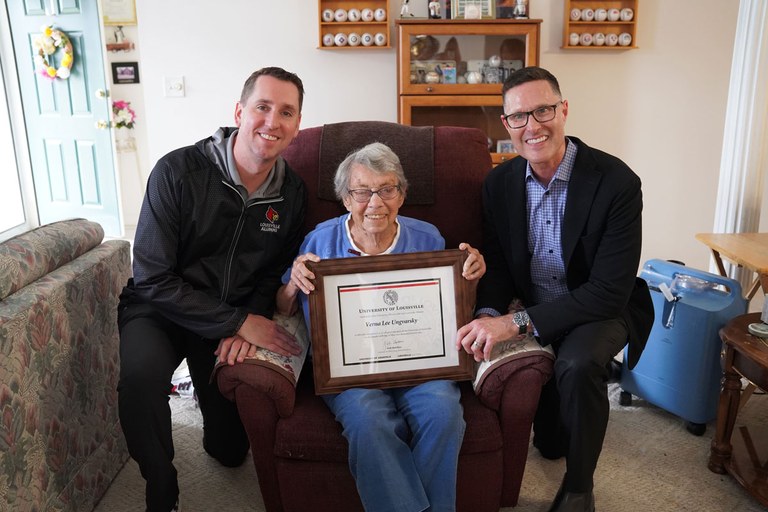 Assistant Vice President of Alumni Relations Josh Hawkins and former Dean of the Raymond A. Kent School of Social Work Dr. David Jenkins
Honoring Verna Lee Ungvarsky
On May 27, University of Louisville Alumni Relations and Raymond A. Kent School of Social Work presented Verna Lee Ungvarsky with adopted alumni status. Ungvarsky, a retired social worker, said it felt like a dream come true to be labeled a UofL Alumnus by Assistant Vice President of Alumni Relations Josh Hawkins and Dean of the Raymond A. Kent School of Social Work Dr. David Jenkins. Read the entire article here.
---
Alumni Berrac Strode (left) pictured with his client
Berrac Strode
MSSW alumni, Berrac Strode, was recently featured in a UofL News article, "Alumnus describes how UofL helped unleash his career potential" During his undergraduate years at Kentucky State University, Berrac Strode didn't think a graduate education would be a part of his future. But, UofL's HBCU Cardinal Express to Success program helped redefine his goals, and Strode went on to complete a Master of Science in Social Work in May 2021.
Read the entire article here.  
---
Dr. Daniel Boamah
Ph.D. alumni, Dr. Daniel Boamah, was selected to be a Principal Investigator for the KYNETIC Grant. KYNETIC is a National Institutes of Health (NIH) funded Research Evaluation and Commercialization Hub (REACH) and part of the national NIH Proof-of-Concept Network. The grants are awarded to faculty, staff and student innovator teams across Kentucky for new, innovative products that have the potential to impact human health, according to a news release. Read more about the grant. 
Dr. Boamah was also selected to be part of the CSWE cohort of Scholars in Global & Intercultural Competence. The designation of CSWE Scholar in Global & Intercultural Competence is given in recognition of innovations in education to introduce social work students to a wealth of international perspectives on social problems and imaginative solutions in the context of cultural diversity and complex social and economic justice issues.
---
Dr. Brittany J. Nwachuku
MSSW alumni, Brittany J. Nwachuku, had an article entitled, "Behavioral Health Brief: Examining the Psychosocial Implications of Mental Health and Cancer Care," recently published in Social Work Today Vol. 22 No. 1 P.8. You can read the article here.
---
Employment Opportunities
We seek to advertise available openings of interest to social work students and social work graduates. Jobs are posted for 60 days, unless stated otherwise in the ad.  If you would like to post job opportunities to this website, please contact  Debra Evans with the following information included in your email:
full job description
title of organization and the job title
whether full or part-time, or seasonal/contract position
eligibility requirements for the position
contact information (name, address, phone, fax), so an applicant can submit their letter of interest
---
Continuing Education
The Kent School Continuing Education program is dedicated to assisting social workers in meeting their professional development needs, maintaining and improving professional competence. We strive to provide trainings that are innovative, engaging and in line with the Kent School's mission of addressing complex social problems through education, research and service to create a just and better world. Our continuing education program demonstrates to the community, prospective students and alumni, our commitment to them, not only inside the classroom but once they are out in the field. In becoming one of the top research social work programs in the country, we provide tools to support your practice in addressing societies most difficult problems. We strive to meet career demands and promote exploration of new careers in social work with the implementation of our online CEU Kent Contributor Series.
All CEU Workshops are approved by The Kentucky Board of Social Work.