Alumni News
Alumni Spotlight: Laura Jones, MSSW, LCSW '16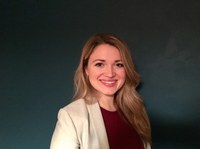 Laura Jones graduated from the Kent School in 2016.  She is currently employed as a Manager, in the Oncology Restorative Health and Wellness Program, and is a Sexual Health Therapist at the UofL Health Brown Cancer Center. She is also a Group Facilitator at Gilda's Club of Kentuckiana.
During her time at the Kent School, Jones recalls one of her favorite classes and professors to be Death and Dying with Dr. Barbara Head. "This class opened my eyes to how much emotional distress stems from grief. I still reference the lectures and texts from this course on a regular basis." After graduation, Jones received the Marc A. Lehmann Spirit of Service Award Recipient in 2018 and completed the University of Michigan Sexual Health Certificate Program: Sex Therapy in 2020.
Laura believes the Kent School helped prepare her for the social work profession in several ways. "The Kent School opened doors through connections to the oncology social work community in Louisville (I am now an employee at my advanced clinical practicum site,) and provided me with the tools to advocate for patients and clients not only in micro practice, but on a macro level as well." Continue reading.
---
U of L Alumni Q & A with Jaydee Graham '15, '16

Louisville Alumni sat down with Jaydee to learn more about how UofL has impacted her life. Continued here.

KFW features story on Kent Alumni, Renee Campbell

KFW featured Kent School alumni, Dr. Renee Campbell, and her journey to truth about her grandmother's death in 1940 during Women's History Month.

Read the story here.
---
Employment Opportunities
We seek to advertise available openings of interest to social work students and social work graduates. Jobs are posted for 60 days, unless stated otherwise in the ad.  If you would like to post job opportunities to this website, please contact  Debra Evans with the following information included in your email:
full job description
title of organization and the job title
whether full or part-time, or seasonal/contract position
eligibility requirements for the position
contact information (name, address, phone, fax), so an applicant can submit their letter of interest
---
Continuing Education
The Kent School Continuing Education program is dedicated to assisting social workers in meeting their professional development needs, maintaining and improving professional competence. We strive to provide trainings that are innovative, engaging and in line with the Kent School's mission of addressing complex social problems through education, research and service to create a just and better world. Our continuing education program demonstrates to the community, prospective students and alumni, our commitment to them, not only inside the classroom but once they are out in the field. In becoming one of the top research social work programs in the country, we provide tools to support your practice in addressing societies most difficult problems. We strive to meet career demands and promote exploration of new careers in social work with the implementation of our online CEU Kent Contributor Series.
All CEU Workshops are approved by The Kentucky Board of Social Work.
To view current CEU Workshop Schedule: Click Here