Dr. Renato LaRocca Endowed Chair in Oncology Social Work
Karen Kayser, PhD, MSW, Dr. Renato LaRocca Endowed Chair in Oncology Social Work
While there have been tremendous advances in medical care in the U.S., we have fallen short in addressing the social factors that limit access to health care and produce poor outcomes for many who live in urban and rural areas.
More than 14.5 million Americans are living with a history of cancer (American Cancer Society, 2015). In Kentucky, the rates of cancer incidence and cancer deaths are particularly high. The Commonwealth leads the nation in rates of lung cancer and cancer-related deaths.
Cancer for patients and their families can produce significant mental health problems, including depression, anxiety, and symptoms of post-traumatic stress disorder (PTSD). The escalating costs of treatment and employment instability during treatment can lead to devastating financial consequences.
Cancer impacts family members and caregivers as emotional stress tends to spread throughout the patient's support system. In fact, some research findings indicate that a family member's emotional distress can be as severe as that of the patient.
Karen Kayser, PhD, MSW, Dr. Renato LaRocca Endowed Chair in Oncology Social Work
Dr. Kayser's research focuses on improving the quality of psychosocial cancer care and studying the interpersonal and cultural factors that impact adjustment to cancer. At the University of Louisville, she has been involved in three research projects which include studies on: 1) couples coping with impaired sexual functioning during and after treatment for rectal cancer, 2) the effects of the Affordable Care Act on accessibility to cancer care, and 3) patient-centered care after treatment for lung cancer. A collaboration with Dr. Brad Zebrack (University of Michigan) and the Association of Oncology Social Work has led to the completion of A Project to Assure Quality Cancer Care (APAQCC). This study focused on improving the quality of psychosocial services in 60 cancer programs across the nation.
Building Research Capacity in Psychosocial Oncology in India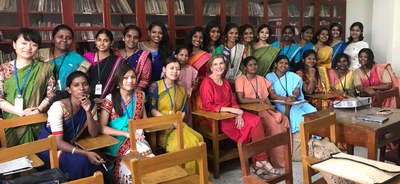 Professor Kayser spent four months in 2018 in Chennai (Madras), India as a Fulbright-Nehru Distinguished Chair. She worked at the Cancer Institute (WIA)—one of the first and largest cancer centers in India. Her goal was to learn more about how the social workers and psychologists at the Institute were delivering psychosocial cancer care to the large volume of patients and families seeking treatment. Her activities at the Institute focused on building the research capacity of the psychologists and social workers to develop and implement evidence-based interventions. Psycho-oncology is a new field in India and the clinicians often rely on practices developed in Westernized countries which are not necessarily applicable to the Indian culture. For example, Indian families are much more involved with decision-making about treatment and are routinely included in sessions with the patient. Families are often informed of the cancer diagnosis before the patient. Through workshops, individual mentoring, and assisting with clinical research, she developed the research capacity of the clinicians and graduate student interns.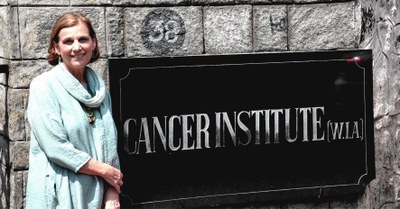 In addition to her work at the Institute, she taught a course on health inequities for graduate social work students at Stella Maris College and lectured on psychosocial cancer care across the country in major cities across India, including Mumbai, Kolkata, and Delhi. Now back at UofL, she continues her work through regular video-conferencing with the clinicians at the Cancer Institute, using the ECHO™ model, an innovative way to disseminate knowledge and provide care to underserved regions with limited resources.
Under Dr. Kayser's leadership, the Kent School of Social Work launched the first specialization in Psychosocial Oncology in the nation.