How to Give
If you would like to support the Kent School and make a gift, please take a moment right now to visit the University of Louisville giving page or click "Donate" below. Then select the "Kent School of Social Work" to designate as the recipient of your gift. Thank you.
---
ABOUT KENT SCHOOL OF SOCIAL WORK
Founded in 1936, The Kent School of Social Work addresses complex social problems through education, research and service to create a just and better world.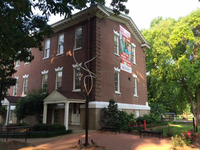 Rated the #1 Social Work program in Kentucky and 42nd in the Nation by US News and World Report.
A national and international reaching doctoral program with a diverse, interdisciplinary faculty preparing students to be research scholars and educators in trauma, mental illness, substance use, social and child welfare, child and family wellbeing, mental illness, justice & criminality, and international social work.
One of only two accredited Couples & Family Therapy Programs in the country that is integrated into an accredited social work education program.
The only endowed chair nationally in Oncology Social Work – The Renato LaRocca Chair in Oncology Social Work, currently held by Dr. Karlynn BrintzenhofeSzoc.
Dual degree programs in Divinity, Law, Pan-African Studies, Women and Gender Studies, and Bioethics.
Six specialized disciplines offered in Military Social Work, School Social Work, Alcohol and Drug Counseling, Gerontology, Mental Health, and Psychosocial Oncology.
One of the fastest growing social work programs in the country in regards to federal funding for external research with approximately $20 million in total research funding portfolio and more than half from federal sources.
Quickly growing outside the state of Kentucky through the online program with students in 43 states and eight countries (Bahrain, Dominican Republic, Ecuador, Germany, Guam, Guatemala, Italy, and Japan).
Online, evening, and part-time undergraduate programs with Spring, Summer, and Fall start dates for learners who need a flexible schedule.
The second highest grant funding unit at the University of Louisville, received at $4.8 Million. 
---
COMMUNITY SERVICE
Annually, more than 300 students provide over 135,000 hours of service to about 6,000 Kentucky residents, valued at more than $2.5 million.
The Kent School of Social Work leads the University of Louisville campus in community engagement by serving as the college with the highest number of community partnerships. 
---