Alumni Events
Upcoming events
DATE & LOCATION
Date: 9/24/2020
Time: 6:00 PM to 7:00 PM
Location: Zoom Video Conferencing
Whether through front line protests, social media, education, or the workplace, the current fight for social justice is powerful and never ending. It can also be draining, exhausting, and uncertain. Regardless of your role in the fight, it is important to maintain your mental health to continue the fight.
In this event, a panel of UofL alumni mental health practitioners will share their insight and tips for maintaining your mental health while fighting for social justice. This will be a Q&A discussion, so submit your questions through the registration form, or bring them to the event.

We are excited to welcome the following alumni to this event as our panelists:
-Dericka Canada Cunningham, PhD
-DeShara C. Doub, MSSW, Marriage & Family Therapy Associate
-Steven D. Kniffley Jr., PsyD, MPA, ABPP
-Ashleigh Hazley, MEd will serve as our moderator
More information about the event available here.
---
Past Events
2019

Alumni Signature CEU event
The Alumni Signature CEU event was held at the Kosair Charities Community Room. The training was "Introduction to Sex Addiction and Emotional Incest" and presented by Mike Eiden.
---
Kent School Alumni, Faculty and Staff visit The Healing Place
---
Join the Kent School Alumni Council for their annual Homecoming event! Friday, October 25th at 6pm at Mile Wide Beer Company! Alumni, students, faculty, and all those who love Social Workers are invited! Did we mention its FREE! Please register with the link below. We hope you will be in attendance!" 
---
2018

Kent School Alumni Council at the UofL Women's game
---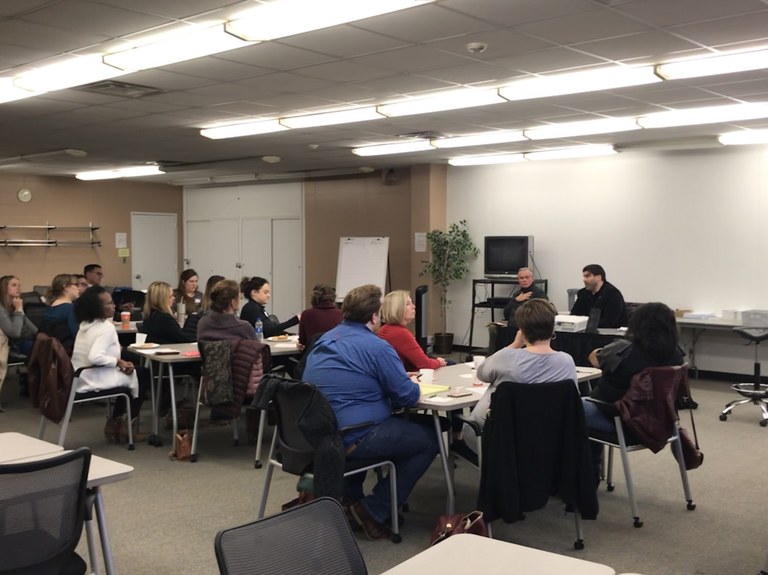 Couples and Family Therapy (CFT) Alumni Event
Dr. Eli Karam and the Couples and Family Therapy program held a small focus group event with CFT alumni on Shelby Campus brainstorming some ways for Alumni to re-engage with the program.
---
Kent School Alumni Council Homecoming "Warm Up" Event
The University of Louisville Kent School Alumni Council hosted its annual homecoming party at the Old 502 Winery. Beginning the homecoming weekend festivities with a party for the past, present, and future as faculty, students, and alumni were welcomed to this fun and unique networking event. The Kent School's 2018 Alumni Fellow was also in attendance. The University of Louisville Alumni Awards are the highest honor bestowed by the University of Louisville Alumni Association. Each year an alumnus from each college or school who reflects the high standing and character of their alma mater is selected and given recognition as a distinguished graduate who is an exemplary ambassador for the university. The 2018 Alumni Fellow for the Kent School of Social Work is Lottie Cook, Class of 1985.
There was also an opportunity to support future Kent School students through the "I am the Change" Scholarship Fund to give back to the student population.
This free and catered 21 and over event included first come first serve appetizers, a game of chance with an opportunity to win U of L swag items and wine tasting available at the full cash bar. Thanks everyone for coming out and we hope to see you again next year!
---