Relationship Solutions Clinic
---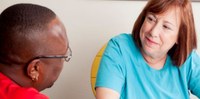 Are you struggling to connect with your partner? Are you tired of family conversations always ending in arguments? The Relationship Solutions Clinic is an innovative counseling environment coordinated by the Couple & Family Therapy Program in the Kent School of Social Work at the University of Louisville. We work with couples and families to decrease conflict, improve communication, and enhance the well-being of all family members.
Services are provided at low cost by graduate-level students working under the direct supervision of a licensed marriage and family therapist. Therapists provide an inviting, non-judgmental atmosphere to help you create the relationships you want to have.
We provide couple and family counseling, as well as co-parenting sessions, parent-child sessions, and couple check-ins.
To schedule an appointment contact:
Tiffany Farmer
(502) 547-9612
---
Clinic Staff

Laura M. Frey, Ph.D., LMFT – Dr. Frey is the Program Director of the Couple & Family Therapy Program and an AAMFT-Approved Supervisor. She is a marriage and family therapist specializing in crisis intervention and suicide prevention. As program director, Dr. Frey oversees supervision policies and procedures for students.

Tiffany Farmer, MSSW, LMFT - Ms. Farmer is the Clinical Director of the Couple & Family Therapy Program. She is a marriage and family therapist specializing in patterns of relational difficulty related to attachment wounds and traumatic experiences. As clinical director, she oversees administrative practices and coordination of scheduling clients.
---
Submit a Payment
Thank you for scheduling an appointment with the Relationship Solutions Clinic. This form will allow you to submit your payment. To submit a payment, please have a debit or credit card ready. You'll also need to know the fee for your session. If you are unsure what fee has been set, please contact your therapist or the Clinical Director, Tiffany Farmer, at tiffany.mccollum@louisville.edu.  Once submitted, you will be emailed a confirmation at the email address you submit below
---
If the payment you make via this page is less than the total amount due, you are still responsible for the outstanding balance.
No refunds
DBA:  Relationship Solutions Clinic