Bachelor of Social Work
---
The University of Louisville Kent School of Social Work and Family Science addresses complex social problems through education, research and service to create a just and better world. Social work is the profession that promotes or restores the relationships between people and their environment in order to improve the quality of life for individuals, families, communities or organizations. 
The mission of the Kent School of Social Work & Family Science BSW Program is to prepare students for generalist social work practice with diverse, vulnerable and marginalized individuals, families, groups, organizations, and communities.  We take an anti-oppressive stance in educating students to intervene at the micro, mezzo and macro levels through the application of critical thinking and the incorporation of available evidence to inform practice that responds to complex social problems. The program contributes to the mission of the University as a great place to learn, by providing engaged service and outreach that improves the quality of life for local and global communities. The educational part of our mission is accomplished through theoretically and empirically driven approach to pedagogy in our on campus and on-line instruction and transformative learning experiences.
The BSW Program at the Kent School of Social Work and Family Science is a full-time, campus-based and online program that prepares students for entry level professional social work practice. The program also provides the foundation for graduate study in social work. Students may qualify for entry as Advanced Level students in graduate social work programs. The program is accredited by the Council on Social Work Education (CSWE). 
Transfer Credit Policy on Life and Previous Work Experience
As a program accredited by the Council of Social Work Education, the Kent School of Social Work & Family Science does not waive any practicum and/or coursework requirements for previous work or life experience per the CSWE's Educational Policy and Accreditation Standard, 3.1.5 (CSWE EPAS 2015).

Contact us for additional information. Please join us for a Virtual Prospective Student Session to learn about the program. Download BSW Program Brochure [PDF]
---
Career Opportunities
A degree in social work has a broad  range of applications in a variety of fields such as healthcare, private practice, schools, universities, government and  beyond. According to the Bureau of  Labor Statistics, the number of jobs for  social workers is expected to grow much  faster than average from 2016 to 2026.  Employment growth will be driven by  increased demand for healthcare and  social services but will vary by specialty. Social workers can be found working in organizations such as:
 

Public School Systems

 

Hospitals and Nursing Homes

 

Government Agencies

 

Charitable Organizations

 

Non-Profits

 

Police Departments

 

Courts
---
Social Work Living Learning Community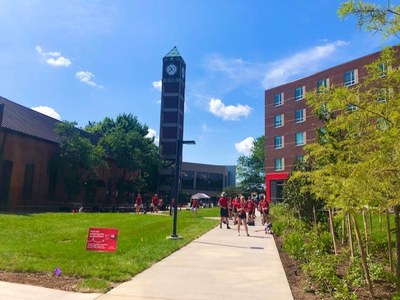 The Social Work Living Learning Community (LLC) located in the new Belknap Residence Hall, in the center of Belknap campus, near the Student Activities Center, brings together BSW students who want to pursue a career  in social work and/or those who want to join supportive community agents. The LLC focuses on academic engagement, mentor support,  peer connections and student involvement.  It will offer opportunities to develop a wide  range of social, professional and community  experiences. 
Who can apply?
Any incoming first-year student who is interested in the profession of social work with a commitment to social justice and to vulnerable, oppressed and marginalized communities. Learn more about the Social Work LLC.