Alumni Spotlight – Maryam Ahmed Named 2018 Bingham Fellow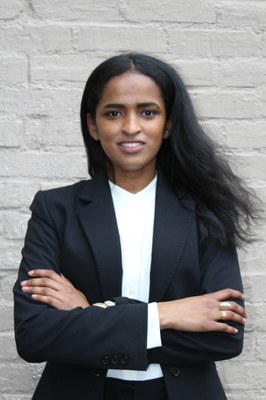 SPHIS alumna Maryam Ahmed, MPH, was recently selected to the Bingham Fellows Class of 2018. The 2018 topic and mission "A Safe and Thriving City: Strengthening our Community's Ability to Prevent Violence" ties in well with her daily work. She said, "Over the next year, I will be working alongside a great group of talented city leaders to create an innovative solution to the timely issue of violence by addressing its root causes and implications. I'm very excited to be a part of a collective effort for social and public health change."
Growing up, Maryam Ahmed always had an interest in healthcare; however, she realized that her true interest was centered on helping others. She said it's her personal mission to make a positive difference.
Through the encouragement of an advisor to continue pursuing a path of passion and purpose, she "stumbled" across the field of public health. Prior to starting the program, she was exploring opportunities to do more as a recent graduate. She worked with Bridge-Kids International, a global nonprofit agency that's focused on sustainable community change, and was involved in non-profit and volunteer-based community work. She also worked at the Muhammad Ali Institute for Peace and Justice at the University of Louisville and in children's health advocacy at the Kentucky Youth Advocates.
Upon completion of the SPHIS MPH program, she travelled to Ghana to conduct public health research focused on patient-centered care through evaluation methods and practices. She coordinated free legal services while working at the Legal Aid Society as a Benefits Coordinator to help ensure children and their families had access to health coverage. She also served as a Research Interventionist for the University of Louisville's Kent School of Social Work, and worked with Jefferson County Public Schools prior to entering her current role.
She said, "My SPHIS degree provided me with the applicable knowledge and skills needed for my past and current roles. The courses I have taken made me a top candidate." She said one of the women she looks up to actually reached out and shared a job opening with her because of her public health background.
In her current position as Operations Coordinator for the Mayor's Office for Safe and Healthy Neighborhoods, she applies a public health framework to help address the issue of violence in the city. She said, "My day-to-day typically involves a cup of coffee and a variety of activities to help achieve our vision of making Louisville a city of safe neighborhoods where everyone is supported, free of violence, and prepared for lifelong success. I manage community-based violence prevention action plans, coordinate data systems, supervise staff, and assist our director with grant as well as organizational management. My day-to-day is dynamic but typically involves collaborative work with citizens, team members, and multi-sectoral partners."
Maryam concluded by offering some advice to current public health students. She said, "The field of public health is expansive and holistic. Explore all of your options and seek advice from your advisor if you are unsure of what concentration to pursue. Get to know your classmates as you will be doing a lot of team projects which will teach you valuable skills to carry with you throughout your career."
She added, "Trust your journey and keep pushing to reach your professional goals. The process of landing your dream job isn't quick, linear, or easy, but possible. Take advantage of opportunities to build relationships and ask lots of questions when you are in spaces with other public health professionals. Your current cohort within itself could be a network to share your graduate experience and later reach out to for support as they will likely be entering a similar journey. Your journey will be unique and will lead you exactly where you hope to be."
Maryam said to make sure you take out time to have fun and enjoy the journey! She said thanks to her public health degree, "I get to wake up every day and work towards making Louisville a city of safe neighborhoods."