Alumni turn out for the Practicum and Networking Fair
On Tuesday, March 1, the Master of Public Health program, in conjuction with the Office of Student Services, hosted the 2016 Networking and Practicum Fair. We appreciate all of the organizations that participated. We also want to extend a special thank you to the following SPHIS alumni who were there to discuss practicum and volunteer opportunities with our students:
Elizabeth Boyd, MPH -- New Hope Services, Inc.
Annemarie Cason, MPH – Kentucky Division of Water
Caroline Chan, MPH, PhD – Kentucky Division of Water
Lori Droege, MPH, CPH – The Center for Women and Families
David D. Johnson, MPH  -- KentuckyOne Health
Mahak Kalra, MPH – Kentucky Youth Advocates
Diana Pantalos, PhD – University of Louisville
Priscillia White, MPH – Gray Street Farmers Market, SPHIS
Pictured above: Mahak Kalra, MPH, and colleague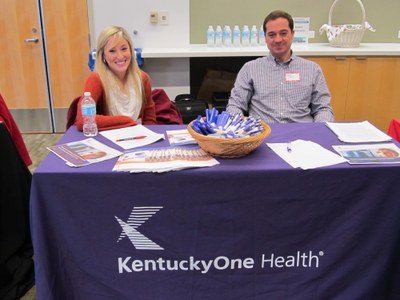 Pictured above: David D. Johnson, MPH, and colleague

Pictured above:Annemarie Cason, MPH, and Caroline Chan, MPH, PhD