SPHIS Home » Alumni and Donors » Alumni News » Recent graduate, Suur Ayangeakaa, reflects on her experience at SPHIS
Recent graduate, Suur Ayangeakaa, reflects on her experience at SPHIS
Name: Suur Ayangeakaa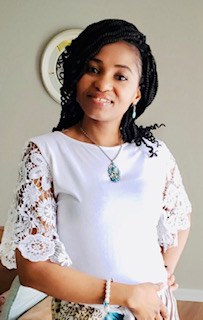 Graduation Date: May 2020
Degree: PhD in Public Health, with a concentration in Health Promotion
Suur Ayangeakaa, MPH, a full-time doctoral student, graduate research assistant, spouse, mom, and out-of-state resident, shared her experience juggling her many hats while enrolled full-time in our doctoral program.
Was it easy being a full-time PhD student, graduate research assistant, spouse, mom, and much more? No!!! But was it worth it? Absolutely! I am a mom of two young children (now ages 9 and 2.5), and at one point I was running a family of eight (extended family migrants from out of the country). I commuted long distances every two to three weeks between Chicago and Louisville (for the first two years of the program) and then between Annapolis, MD and Louisville (during the last two years of the program). All of this was extremely challenging, to say the least.
Juggling family responsibilities while trying to maintain a strong academic record was difficult, but I learned to plan and schedule everything ahead of time to manage my time the best I could and to stay afloat. Also, having the backing of my spouse—my main support system—as well as a conducive school/work environment contributed immensely to my progress and success. UofL, as a whole, proved to be a supportive environment, but more notably, the Department of Health Promotion and Behavioral Sciences was incredibly empathetic towards me. My professors were highly understanding and accommodating. They ensured I had all I needed to succeed even if it required me to work remotely for a time and a season. I could not have chosen a better place to pursue my doctoral program.
Although my workload felt overwhelming and unbearable at times, I knew quitting was not an option for me; I had my sights set on the prize—obtaining the much-converted terminal degree. With this end goal in mind, it did not matter what obstacles were thrown in my path; I was determined to stay the course to win the ultimate prize, a PhD. This mindset also helped me get through dissertation and prepare for defense in the midst of yet another obstacle—the novel coronavirus. Being stuck in Louisville for over a month amid the Covid-19 lockdown, unable to travel home to see my family in Maryland, was one of the most stressful times of my life. Yet, in loosing physical contact with other humans, I gained a deeper sense of appreciation for family and community. This period of isolation made me realize how incredibly important the support of others has been to my PhD journey. Thus, I learned to maximize every opportunity I had to connect virtually with family and my support system. In the end, I am thankful that I stuck with the process and did not quit despite the struggles and hardships endured along the way. It took much faith, resilience, and perseverance, but I am glad it is practically over, thanks to God and to a strong supportive home and school environment.
My desire to become a specialist in health promotion and a stellar researcher in the field of public health was born out of my personal experiences with preventable infections while growing up in West Africa, where I also witnessed, up-close, the devastating effects of HIV and AIDS on my community. These encounters, along with my experience as a volunteer working with children orphaned by AIDS in southern Africa, motivated me to seek a comprehensive understanding of prevention interventions, a quest that ultimately lead me to pursue a career in public health. These experiences birthed in me a strong passion for research and advocacy geared towards communicable disease prevention among vulnerable and minority populations.
Prior to joining the university, I participated in several research and community-based projects in HIV/AIDS and STI prevention in underserved communities around Chicago. These included investigating the role of an empowerment-based HIV prevention for previously incarcerated women during my MPH program at Chicago State University as well as supporting the implementation of integrated routine HIV screening in the emergency room, as a certified HIV health counselor. We identified early diagnosis and linkage to care as key steps towards improving prognosis and reducing the burden of these infections among African Americans. Prior to obtaining my MPH and working as a HIV counselor/tester, I worked in the microbiology and biochemistry industry as a laboratory assistant for a combined four and half years
As a student and graduate research assistant at SPHIS, I worked on more than six research projects with considerable impact on the health outcomes of the local Louisville community. Some specific contributions included the HIV pre-exposure prophylaxis (PrEP) needs assessment that informed the development of the first Louisville PrEP clinic; the development and implementation of a multi-media PrEP campaign with the AFYA study team to improve PrEP awareness among Louisville residents; and the project to improve health literacy/health insurance literacy among West Louisville residents. I also served for two years (2015-2017) in the role of the Graduate Student Council (GSC) representative for SPHIS. My role required attendance and deliberations at meetings and service on two committees at the university-wide GSC, which ensured the entire SPHIS student body eligibility for GSC student travel and research grant funding.
My advice to new public health students is make sure you have your "why" down solid! The field of public health is extremely rewarding, yet challenging. It takes effort to make a difference in the health of the population through protection, promotion, and prevention. Thus, knowing your why helps you stay the course when the going gets though. Fix your gaze on the price! Do not let life stop you! You are stronger than you know! When troubled times find you, reach deep down and harness the power and strength that lies within each of us. Whatever you do, do not look back and do not quit!
My advice for new graduates: Be excited to be the difference and to make an impact in your field and in the world!! Now more than ever, the world is realizing the importance of public health. Go forth!!
Connect with Suur LinkedIn: Suur Debrah Ayangeakaa
Suur Ayangeakaa successfully defended her dissertation titled, "A novel approach to HIV prevention: understanding multi-level influences on HIV pre-exposure prophylaxis (PrEP) uptake and outreach among African Americans" on April 30. Congratulations Dr. Ayangeakaa!