Q&A with SPHIS Alumna, Tionne Goodson, MPH
Name: Tionne Goodson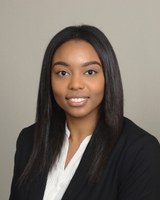 Graduation Date: May 2018
Degree: MPH with a concentration in Population Health Management
What is your title? Administrative Fellow
Name of company/organization: Bon Secours Mercy Health
What city is the fellowship based? Richmond, VA
Length of fellowship: 1 year (June 2018-June 2019)

Can you explain what your position entailed?
In my role as administrative fellow, I wore many different hats. No two days were exactly the same and the scope of work was quite large. My role expanded across the Richmond market gaining exposure in many areas across the health care continuum ranging from acute care, to outpatient care, and even palliative care. A few of the projects I have worked on were a developing a new business proposal model, project management of surgical supply cost reduction initiatives, and workflow standardization and process improvement work.
How did you hear about this opportunity?
I heard about this specific opportunity from a job posting on Indeed. However, the professors at SPHIS stressed the importance of finding an administrative fellowship, which is why I began the search from the beginning.
How did you land this fellowship and what about this specific opportunity appealed to you?
The fellowship process was extremely competitive and candidates from all over the United States compete for various opportunities. I landed this fellowship through a rigorous application and interview process. I was interviewed twice via phone and flown out for a final in-person interview with two executives from the organization. What appealed to me about this opportunity was the organization itself, specifically how mission-oriented they are.
What positions did you hold during and/or prior to beginning the MPH program at SPHIS?
Prior to SPHIS, I completed my bachelor's in psychology at the University of Kentucky, and in between undergraduate and graduate school, I spent a year at a non-profit dental clinic through the AmeriCorps VISTA Program where I gained exposure to non-profit healthcare operations and got a better understanding of how social determinants impact health. While at SPHIS, I worked as a research assistant at the UofL the Division of Infectious Diseases. I helped coordinate the foreign medical graduate research program and the UofL Journal of Respiratory Infections.
How did you become interested in this field?
I became interested in the field of healthcare because it is one of few fields where you can impact lives tremendously. Everyone at some point in his or her lifetime will have some interaction with the healthcare industry. For me, healthcare administration was the perfect combination of healthcare delivery and business.
How did you SPHIS degree aid you in securing past positions and how did it prepare you for your current role?
SPHIS prepared me for my current role by using an active learning approach. In several courses, we were asked to apply the tools in real world scenarios and think on our toes. This mirrors everyday professional life where I am given a task and asked to produce results quickly. I also believe the program stressed public speaking, which has been a key piece in my fellowship. On a consistent basis, I am speaking in front of groups of executives and speaking frequently throughout the program has better prepared me for these experiences.
Advice to new students:
For students just beginning their public health journey, I would say it is never too soon to begin thinking about post-graduation readiness and building a strong professional network. The program moves quickly, and it is important to be fully prepared for life after graduation well in advance. The fellowship application process rolls also around quickly and preparing materials in advance facilitates this process. Also, network and meet as many people as possible so that when opportunities arise, you are top of mind.
Advice to soon-to-be graduates:
For students getting ready to graduate with a public health degree, I would say do not be afraid to take risks. Remain open to new ideas and moving to new locations to further broaden your opportunities for advancement and growth.
Connect with Tionne Goodson on LinkedIn.