Alumni Testimonial: Arinjita Bhattacharyya reflects on time at SPHIS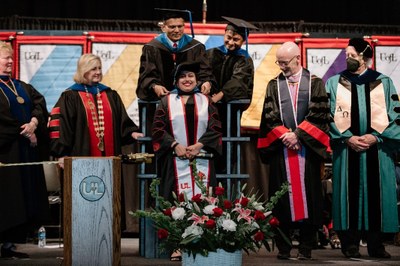 I joined UofL as a Ph.D. student at the Department of Bioinformatics & Biostatistics, School of Public health and Information Sciences (SPHIS), in August 2016. I did my Master's and Bachelor's in Statistics from the University of Pune & University of Calcutta, India. I decided to pursue a Ph.D. in Biostatistics since I wanted to contribute to public health through drug development and the statistical background that I had. Nothing can be better than the biostatistics field, which fulfills this statistical theory and public health blend. I was supported by NIH grants and fully funded over four years. My department is very welcoming and has a friendly environment. The professors are very approachable, even in times of personal issues. There are plenty of opportunities for collaboration, internships, and conferences. Travel awards from the department generously supported me, the Graduate Student Council, and SPHIS for presenting my research at several conferences. I enjoyed the recreation activities such as picnics, bowling, hiking organized by the Biostatistics club, and graduate school. I want to thank my advisor Dr. Shesh N. Rai, and my committee member Dr. Craig McClain for the NIH grants that provided my financial support for my Ph.D. work. I want to thank my chair Dr. K.B. Kulusekera for his nomination for the Doctoral Dissertation Completion Award, which helped me graduate in the last semester. UofL's emergency funds brought relief to my stress regarding the hospital bills due to an unfortunate incidence of illness during my previous year. During this critical time, my advisors, Dr. Shesh N. Rai, Dr. Riten Mitra, and Dr. Subhadip Pal, supported me. They kept on motivating and encouraging me, and their expert guidance helped me complete my research work and defend my thesis. Since I was discharged from the hospital, campus health services have played an outstanding role in my progress. Every international student faces challenges in settling in a new country. As I look back on these four years, I remember the welcoming smiles of people at UofL, which helps a lot to endure the challenges. The international center, especially Thomas Beard, is a very helpful person, always prompt answering all my queries. The F1-OPT and H1-B visa workshop sessions with the university lawyer that the international center conducts are very beneficial. UofL has a lovely campus, especially the Belknap campus. I enjoyed the late-night group study sessions at Ekstrom Library; the safety escort service was a blessing to move to-fro late at night from the library. I will miss walking around the campus, Speed Art Museum, playing badminton, and attending group classes at the Student Recreation Center.
Finally, I never thought of graduating amid a pandemic and defending my thesis online in my wildest dreams. I am excited that I can attend an in-person doctoral hooding ceremony in 2022. It was a great experience to revisit the campus and meet with my friends and advisors. The Organization Assisting and Serving International Students (OASIS) has been excellent support for me during my UofL days. It is a group of local volunteers and students in Louisville dedicated to helping international students. I met them on the orientation day organized by the International center at UofL in 2016, and it has been a strong bond since then. UofL has been a very positive experience throughout, and I thank my advisors, especially Dr. Rai, for training me well for independent thinking and a positive outlook during life's ups and downs. These achievements and interpersonal skills helped me get an internship at Johnson & Johnson in 2018 and my current job at one of the pioneering departments of Biostatistics and Research Decision Sciences, Merck & Co., and Dean's citation award in 2020.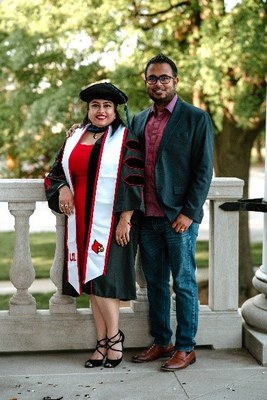 UofL has made me more confident and independent and instilled a spirit to persevere, making me a "fighter," as Dr. Rai says! I would also like to thank my husband, Soham, whose immense support made me achieve my dreams, and my parents and sister took care of me whenever needed. We all need a supportive department and kind-hearted advisors to excel in the field and achieve our dreams. Finally, to all the aspiring students and researchers, please take care of your mental and physical well-being, reach out to people for help for academic and personal issues, and hard work will always pay off! Time flies, and it's already been two years since I graduated and been an UofL alumni, and I look forward to remaining associated with UofL through research & teaching activities. Go Cards!
Dr. Arinjita Bhattacharyya, PhD, Biostatistics, May 2020, currently working at Merck & Co., Inc.