SPHIS alumna, Janikaa Sherrod, prepares to "kick cancer's butt"
Kicking cancer's butt seems to run in SPHIS alumna, Janikaa Sherrod's, family -- her mother is a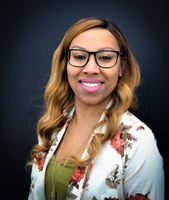 three-time cancer survivor! This experience, as well as her grandmother's battle with pulmonary fibrosis, led Janikaa to pursue a degree in public health. She decided to focus on the areas of health promotion, behavioral science, and health management, and graduated in 2015 with her Master of Public Health (MPH).
While enrolled at SPHIS, Janikaa's MPH practicum placement was with the Kentucky Cancer Program (KCP) based at UofL's James Graham Brown Cancer Center. This led to the creation of Janikaa's current position at KCP as a cancer control specialist. In this role she works on various initiatives in the community including programs for cancer prevention, early detection, and awareness. She also does outreach, participates on state and local boards (e.g. Kentucky Colon Cancer Advisory Committee and the Kentucky Cancer Consortium), and oversees health equity initiatives on behalf of the Kentucky African Americans Against Cancer.
Most importantly, Janikaa brings a fierce attitude to her daily work: "Every day I come prepared to roll up my sleeves and kick cancer's butt."
When asked to offer guidance to current public health students, she advised: "Immerse yourself in the communities you work with and learn their cultures and resources. Be sure to collaborate, form partnerships, and have empathy."
She added, "In this process you are going to grow more than you imagine and the community can teach you more than you can teach them. The possibilities are endless. You have to be fearless. Don't be afraid of failures because they help develop your successes."
If you have any questions or wish to learn more, connect with Janikaa on LinkedIn.